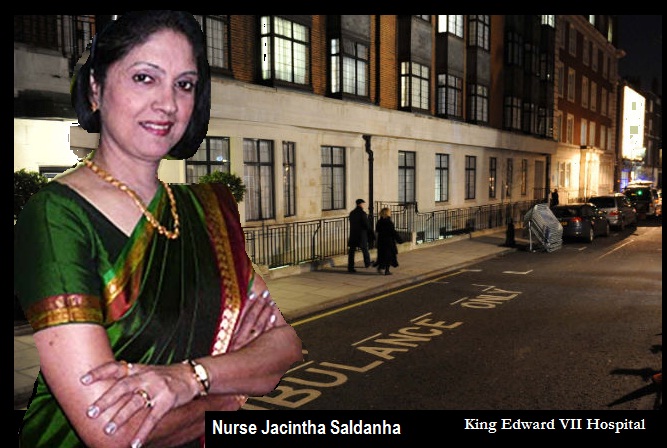 Aussie dj's Mel Greig and Michael Christian as well 2DayFM staff now receive death threats.
Kate Middleton nurse Jacintha Saldanha hung herself with scarf say police. Left 3 suicide notes.
Aussie dj's radio show that pranked Kate Middleton's nurse terminated.
Kate Middleton nurse suicide suspicious. Are others involved?
Aussie dj's express public grief and shock that their royal prank worked.
Kate Middleton nurse suicide leads to 2DayFm radio advertiser boycotts.
Despite Kate Middleton Nurse suicide 2DayFm refuses to fire dj's. Says they are the real victims!
Kate Middleton Nurse suicide leads to Aussie Dj's suspended.
Kate Middleton Nurse suicide leads to outrage on twitter.
Kate Middleton nurse who received prank phone call found dead, suicide suspected.
Aussie Djs prank call Kate Middleton's hospital. Pretend to be the Queen and Prince Charles.
Making the rounds this afternoon is the story that Kate Middleton nurse, 46 year old Jacintha Saldanha, who took her life pursuant to a royal prank at the hands of 2DayFm radio dj's Michael Christian and Mel Grieg that went horribly wrong (as it now seems for everyone included) left behind a suicide note. It's contents have yet to be divulged.
Nevertheless despite the suicide note (can we really believe it to be a legitimate one, cause I sure as heck don't), her husband, 49 year old Ben Barboza is demanding more answers and a full disclosure. A full disclosure because like most of us he's having an incredibly hard time believing that his wife simply took her life to leave him and their two children, aged 17 and 14 to fend in the world alone.
Making things increasingly dubious is a report from Radaronline who report that Saldanha never mentioned the Kate Middleton hospital prank call to her family before taking her life. Maybe because she had no idea she was about to take her life or to be even more cryptic that it was about to be taken away from her from possible other sources. In the days leading up to her death she had been working and residing in hospital quarters and had not physically seen her husband or family.
For their part King Edward VII Hospital has inferred that it is still 'making internal inquiries' (what does that really mean anyway?) and for the time being has canceled the annual Christmas party. Bad news indeed.
Also making news is the fact that Kate Middleton has once again suffered another bout of acute hyperemesis gravidarum since returning to Kensington Palace, where she is under the care of the Queen's private surgeon-gynecologist. Of course the story currently not making the rounds is the fact that Kate Middleton may be dealing with a more dicey situation correlated to her giving birth, otherwise known as eating disorder which is a story that is hardly getting any airplay from the mainstream press. Can anyone guess why?
In other news, in a show of support for the Saldanha family, Southern Cross Austero, 2DayFm's owners will be donating $500 000 to a memorial fund set up by the hospital.
above image found here