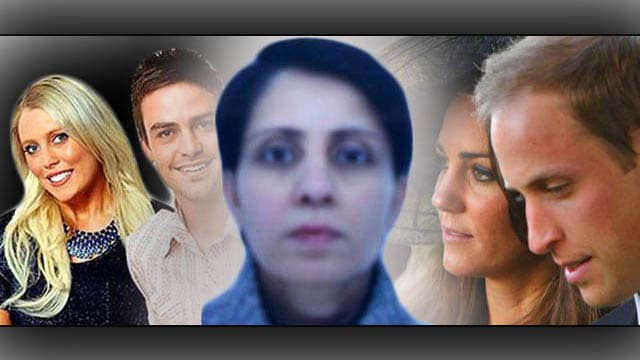 Aussie dj's Mel Greig and Michael Christian as well 2DayFM staff now receive death threats.
Kate Middleton nurse Jacintha Saldanha hung herself with scarf say police. Left 3 suicide notes.
Did Kate Middleton nurse really leave a suicide note? Mystery deepens….
Aussie dj's radio show that pranked Kate Middleton's nurse terminated.
Aussie dj's express public grief and shock that their royal prank worked.
Kate Middleton nurse suicide leads to 2DayFm radio advertiser boycotts.
Despite Kate Middleton Nurse suicide 2DayFm refuses to fire dj's. Says they are the real victims!
Kate Middleton Nurse suicide leads to Aussie Dj's suspended.
Kate Middleton Nurse suicide leads to outrage on twitter.
Kate Middleton nurse who received prank phone call found dead, suicide suspected.
Aussie Djs prank call Kate Middleton's hospital. Pretend to be the Queen and Prince Charles.
In the days since news of the suicide of  Kate Middleton nurse, Jacintha Saldanha, the public has yet to have been told how exactly the nurse who inadvertently took the prank call actually came to kill herself. Which has led to this blogger wondering out aloud whether the nurse's death was an actually suicide or if there is more than meets the eye that we should all wonder about?
First off despite the poor taste of the 'royal prank' itself one has to legitimately wonder how the simple taking of a phone call that served to embarrass the royal family should result in Jacintha Saldanha taking her own life? It really does seem preposterous and way out of proportion and yet we are being collectively asked to believe the nurse's suicide is the result of a woman who just must have been too fragile for her own good. Really?
This is a seasoned nurse who spent the last 4 years working for one of the finest establishments in the UK. Surely by now if Jacintha Saldanha was on edge that fact would have been noticed by now and she would have been dealt with accordingly with King Edward VII's hospital administrators. Or let us even argue the following, had she really been on edge, surely she would never have been assigned anywhere near Kate Middleton, given the seriousness of the Duchess of Cambridge's illness?
Which brings us to the next question. Has Kate Middleton's recent morning sickness really been brought on by assertions that she is just now may be expecting twins and that her body was just rebelling against sudden sharp bouts of morning sickness that comes wit being pregnant with twins? Or can we wonder out aloud if whether her hospitalization may have more to do with the possibility that her body was really repelling (as one royal insider has stressed to this author in confidence) against her pregnancy as a result of constant food binging which has seen Kate Middleton constantly battling to keep a solid weight? It is after all no surprise to anyone that has watched the blooming of Kate Middleton in the public eye the degree of constant body deterioration she has endured in the public eye.
If we are to wonder out aloud even just for a moment that Jacintha Saldanha's death was not suicide, then the next question we might want to ask is who may have wanted to kill her and what information was she privy to lest the public find it out? I wont want names as at this point I have no legitimate names to suggest, but one does really have to wonder how odd this death is and how out of proportion it is in relation to the 'royal prank.'
Yes Jacintha Saldanha's death may have been triggered by the tasteless royal prank at the hands of Aussie dj's Mel Greig and Michael Christian (at present we don't know whether the hospital threatened her her job despite public assurances to the contrary, or what may have been going on in her own private life at the time which may have forced her hand) but it just might be the result of something that has yet to be fully probed….?
above image found here