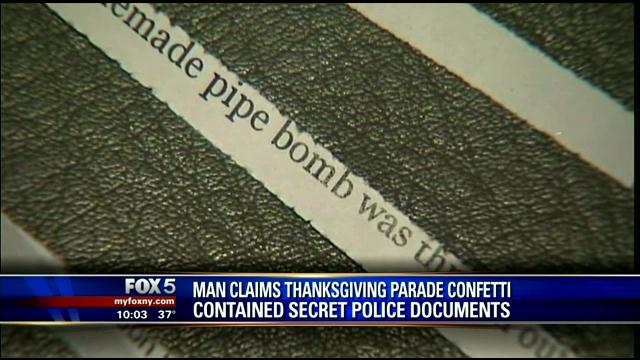 It is being reported that on Thanksgiving day, a Long Island police department employee decided it would be a good idea to give the Macy's day parade a little juzz and bring along some confetti of their own. The only problem was that this confetti, was not confetti at all, but was instead poorly shredded and identifiable police documentation.
USA Today is reporting that: Among the easily identifiable records from the Nassau County Police Department were what appears to be details of Mitt Romney's motorcade route to and from the final presidential debate at Hofstra University.
Ethan Finkelstein, of Manhattan, returned the shredded documents he found to police and stated "There are phone numbers, addresses, more Social Security numbers, license plate numbers, and then we find all these incident reports from police."
USA is also reporting that: Confetti collected by spectators near 65th Street and Central Park West also contained arrest records, incident reports and personal information and that identified undercover officers, WPIX-TV says.
That sounds like an awful lot of critical information out there for the world to see.
One would think that maybe the police department would think twice about using such sensitive information to hurl at strangers and if it really felt the necessity to do so perhaps they ought to have opted for a cross-cutting shredder, instead of an outdated and easy to read strip cutting shredder. Then again, with the economy the way it is, who can afford such niceties?