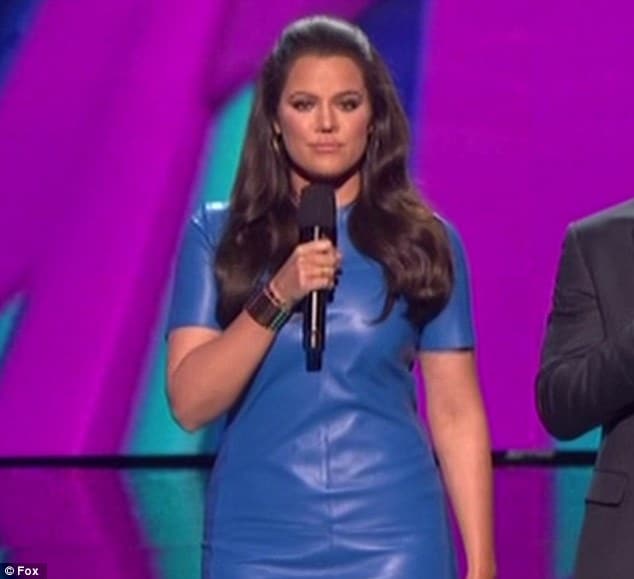 Oh my! Khloe Kardashian exposes her nipple on her first live X factor show.
Cashing in on the family brand…
It seems Khloe Kardashian has taken a page out of her sister Kim's book by now copying her famous sister's preferred slinky look and has now begun donning her own 'fuck me too' leather look.
Choosing a bright blue Celine minidress and pairing the come hither outfit with a pair of Tom Ford shoes for X factor our collective heroine cut a racy visage as she hosted the show.
Twitteda mesmerized Kim: 'Seriously my sister @KhloeKardashian looks so stunning on @XFactorUSA! love her hair,make up, that blue dress, everything!
But in case you think Kim is about to start shifting focus away from herself and onto sister Khloe think again, reiterates the UK's dailymail:
But then she tweeted a link to her blog entitled 'Red leather love' which featured pictures of HER wearing the primary coloured fabric in New York. 
Hard to not think she was trying to steer the attention back in her direction.
The tight leather look comes after Khloe's gaffe when she turned up to the show's first live taped appearance with her nipple showingthrough a see through plunging outfit. Of course some have now wondered if the faux pas wasn't planned as most things in 'Empire Kardashian' are normally planned.
Isn't it time you also donned a slinky leather dress too…?