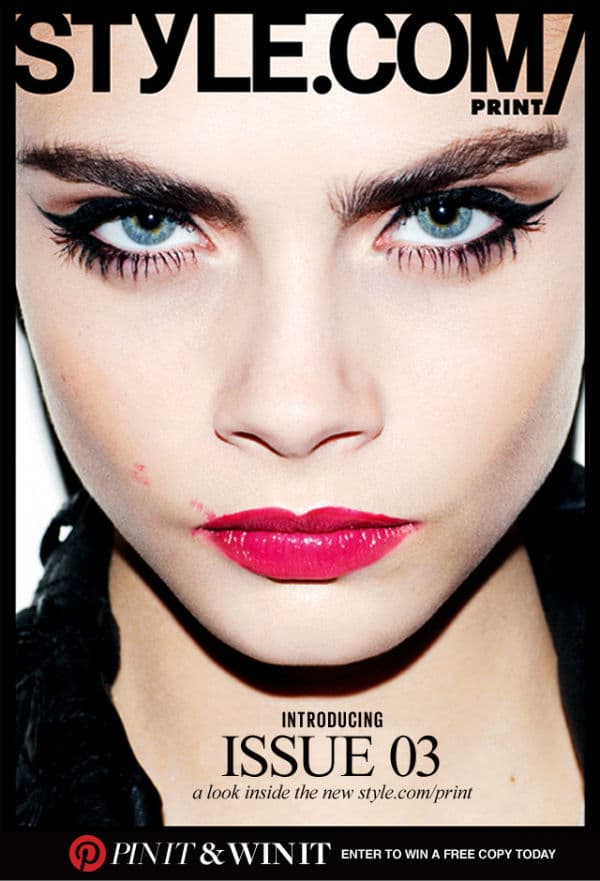 Ladies have you ever irritatedly thought to yourselves if only I could get rid of these smudged lips? Well here's some good news, going forward this fall you might be actually showing off your smudged lips. Why?
style.mtv.com: "….including the model of the moment herself, Miss Cara Develevingne. And as you can tell by her cover shot, this girl is giving some MAJOR lip.
The Burberry muse and budding street-style star poses on the cover of the mag's third issue, which features the Spring 2013 collections. But while we can't wait to dive into the stories themselves, right now we're too distracted by Cara's disarming cover shot. She's sporting a killer cat-eye and working her trademark dramatic brows like always, but we can't stop staring at her ever-so-slightly smudged hot pink lipstick. Sure, we know that lipstick's supposed to stay, well, on your lips, but something about the look is strangely captivating. Then again, maybe it's just because it's Cara, and she looks amazing in pretty much everything. Either way, what do you think about the cover look? Tell us!
I have to confess theres' something very erotic and laissez faire about the impromptu smudged look. It already has my loins doing fire tricks. But then again it could also just be Cara mesmerizing me this bleak post Hurricane Sandy Wednesday lunchtime? 
In other words slutty, mischievous, vixen, on the run and just too amazing even for your own good is the prevailing attitude this fall.
Ladies will you be smudging your lips before you head out?