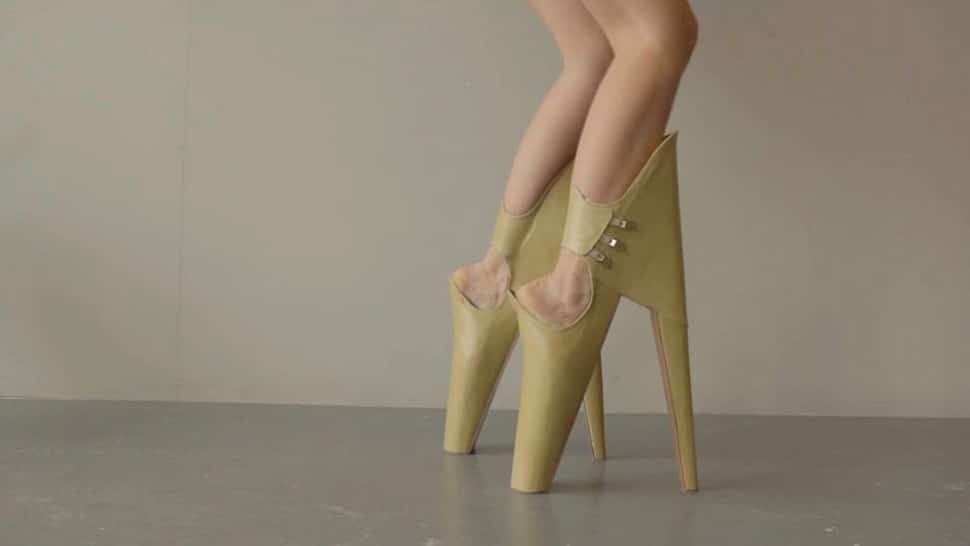 Here comes a new pair of shoes courtesy of artist Leanie van der Vyver who teamed up with Dutch shoe designer René van den Berg to create more of a statement than an actual walkable shoe (although I am fretting that some of you might want to try it anyway).
Called 'Scary Beautiful' the shoes are meant to be a commentary on today's impossible beauty standards (not that you don't ever stop trying).
Reflects the artist via Shine:
'After working in fashion for seven years, and therefore being well aware of the manipulation images in fashion suffer for a perfect result, I still compare myself to them and other current beauty ideals. My frustration with my own inability to overcome these feelings of inadequacy was what brought 'Scary Beautiful' into fruition. [The shoes] challenge current beauty ideals by inflicting an unexpected new beauty standard.'
Reports jezebel (because I have never had the pleasure of wearing women's shoes yet):
In order to wear them, one's feet must be completely vertical while leaning her calves against the front of the shoe and bending her knees. Watching the model in the video teeter around like some kind of alien insect seems like a big joke. How could anyone seriously be expected to wear these? Well, they're not.
Which is perhaps another way of saying sometimes art and common sense see eye to eye, pity most fashion and common sense do not…Of note though is the model's attempt to appear unaffected or chagrined by the shoes which in some level is an apt description of most women's resilient need to wear shoes that us men cringe at the sheer sight of.
Scary Beautiful (Leanie van der Vyver) from Lyall Coburn on Vimeo.