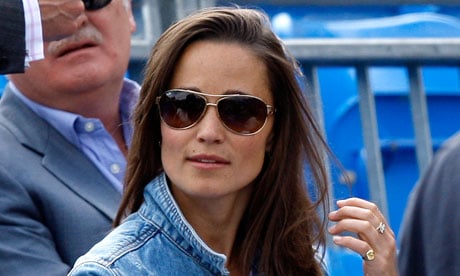 Oh my! Pippa Middleton and Ryan Lochte sit front row at Rebecca Minkoff Spring 2013 collection.
Happy birthday Pippa Middleton. But will you move to NYC?
Pippa Middleton may move to NYC after a series of faux pas.
Oh my! Pippa Middleton attends US Open. But is she dating Andre Balazs?
Pippa Middleton hangs with Andre Balazs in NY. Embarrassed to be spotted…
Pippa Middleton arrives in the US. Is she dating Andre Balazs?
Pippa Middleton hangs out with Andre Balazs on Shelter Island, NY.
Pippa Middleton in the space of 4 days has become one of New York's most talked about personas.
Arriving to the United States almost incognito, she was only discovered after astonished passer bys noticed her standing in line to use the bathroom at one trendy Shelter Island boite.
It was later realized that the doyen of on and off good/bad manners was there as a guest of hotelier Andre Balazs who many have speculated may have his eyes on the sister of the future Queen of England, Kate Middleton, or is it the other way round? (bixch is said to be worth close to $400 million).
Us Weekly also now reports that our collective media whore (yes call a spade a spade) was last night seen spending up to ten minutes speaking to Gossip Girl actor Chase Crawford (about what could be anyone's guess, 'Yes I'm a gossip item too,') at NYC's Electric Room at the Dream Hotel Downtown. The socialite (for lack of a better word) was also seen talking to New York Ranger Sean Avery.
With fashion week set to kick off officially tomorrow at Lincoln Center (of course there are shows showing today as well) it is presumed our collective hawt bixch will occupy a stable of front row seats at some of the more coveted shows.
Also a final thing, we here understand it will be your birthday tomorrow Pippa. Congrats love, of course we love you!