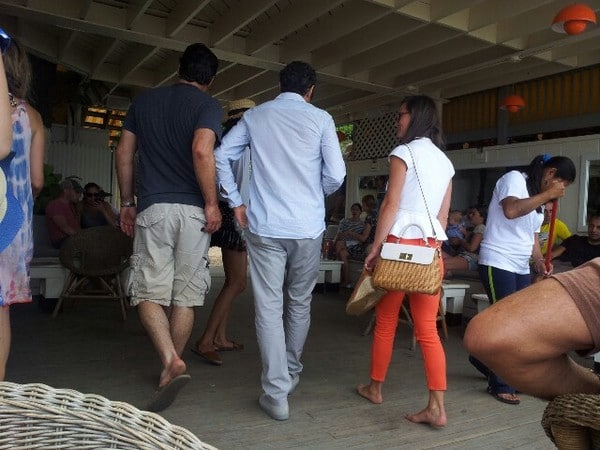 Pippa Middleton may move to NYC after a series of faux pas.
Pippa Middleton is planning to hit New York Fashion week shows too
Oh my! Pippa Middleton attends US Open. But is she dating Andre Balazs?
Pippa Middleton hangs with Andre Balazs in NY. Embarrassed to be spotted…
Pippa Middleton hangs out with Andre Balazs on Shelter Island, NY.
With Pippa Middleton almost clandestinely arriving in the United States, tongues are beginning to wag that there might be something going on between herself and her 'host,' for a lack of better word, Andre Balazs.
Seen gallivanting the tip of Long Island (tweeter is starting to brim with Pippa Middleton sightings out in the Hamptons) with Andre Balazs, one source opined to me that she may be here in part to promote her party book, come and see some fashion shows during fashion week and of course to land herself a man.
Offered the undisclosed source: "Pippa is desperate to just hook up with a man with access to lots of money. There's always been so much competition between her and her sister Kate."
"The mom is crazy and makes them compete. Pippa is using her royal connections to find a man in the states since she is updatable in london ever since Alex Loudon was forced to dump her."
Ouch!
Continues the source: "….she can't find a boyfriend and it's almost one year she is desperate. She probably would love to move to NYC."
Asked if my source has an idea where Pippa Middleton will be spending this time in NY, they offered the following:
"Expect to see she her out this Saturday. She will go to the Harriman Cup polo match under the VIP tent. I imagine she will also be at Ben Watts party tomorrow night at Milk Studios as well."
With or without Andre I enquired?
'That's up to Andre. I'm not sure he wants to make his ties to Pippa public knowledge yet. Probably all on the hush."
Either way expect Pippa to start fronting up at a smorgasbord of bashes this week and of course taking her rightful place front row at fashion week….
photo via melissagrelo