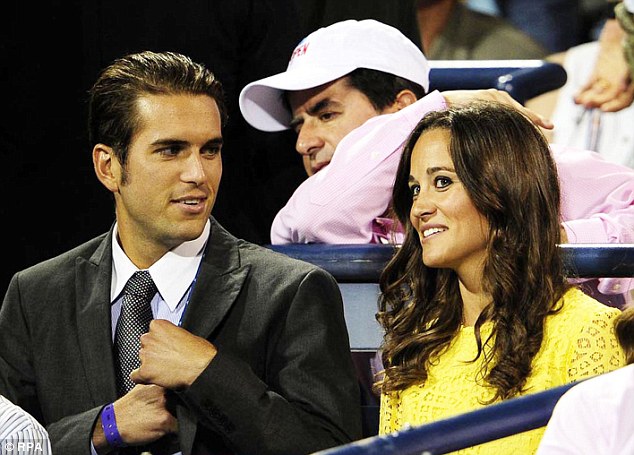 Oh my! Pippa Middleton and Ryan Lochte sit front row at Rebecca Minkoff Spring 2013 collection.
Good news as Pippa Middleton our collective media whore turns 29 today and our beloved birthday girl is already celebrating her birthday with style.
Festivities actually began last night as the socialite (I'm not sure what other description best fits at the moment, any guesses anyone?) as she joined hawt bixch du jour Spence Vegosen ( yes this one is quite the catch too: Harvard educated, Goldman Sachs educated and former junior tennis champion thank you very much) court side to cheer Andy Murray on.
Whilst Pippa's spending time with the handsome 6'3" stranger will certainly stir speculation as to whether she is dating him (flirting?) or just a well meaning friend (we'll see about that soon) alongside speculation whether anything might be ripe between Andre Balazs the real speculation now floating is whether Pippa will be moving to NYC.
One source close to this author contests that the socialite may have been encouraged to blossom her wings by coming to the United States, which might be another way of saying she may outgrown the Royal family's giddy feelings of the rambunctious sister law?
Either way the socialite was seen gallivanting about town yesterday in the company of a realtor looking at what one presumes a matter of handsome abodes to possibly settle in.
Either way the shows have begun at the at the tents today and perhaps this author might find himself smiling bemused should she take a seat nearby him as she too takes in the glam of NY Fashion week.
I promise Pip, I wont bite. Happy birthday love. Any idea where you'll be later tonight?
Pippa Middleton may move to NYC after a series of faux pas.
Pippa Middleton is planning to hit New York Fashion week shows too
Oh my! Pippa Middleton attends US Open. But is she dating Andre Balazs?
Pippa Middleton hangs with Andre Balazs in NY. Embarrassed to be spotted…
Pippa Middleton arrives in the US. Is she dating Andre Balazs?
Pippa Middleton hangs out with Andre Balazs on Shelter Island, NY.