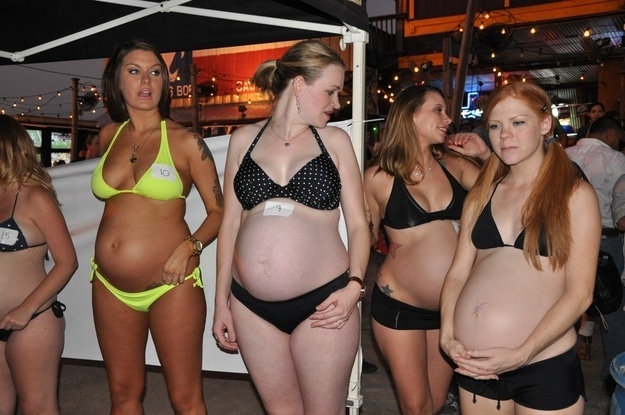 There's nothing more entertaining than watching a woman haul it in her bikini, it frankly is God's gift to all us men. That said, God's gift got a little kinky pre Labor day weekend when circa 40 'pregnant' women (yes you read right) all in their third trimester competed in Houston's annual Pregnant Bikini contest.
Offered the houstonchronicle: The ladies tested out their parenting skills in challenges such as the baby change and the diaper toss before strutting down the runway to show off their bumps. The contest gives fun-loving women a chance to show off their amazing bodies capable of growing an entire separate life. While the women compete, their family, friends and partners cheer them on.
For those of you curious to know, the this year's title went to Jennifer Clay, apparently she had the 'it' factor.
But not everyone is okay with pregnant bikini contests (that's right a woman is to be objectified right up until she gives birth). Says one blogger, Cafemom's Jacqueline Burt:
"So, I'm gonna just come right out and say it: I have mixed feelings about this one. Look, I'm all for self-acceptance and having a positive body image no matter what your size or shape, but a pregnant bikini contest? I just don't know if I'm okay with that."