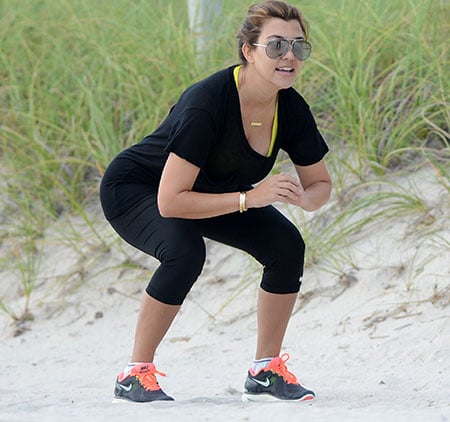 It seems being lean and fit is the name of the game over there at the Kardashian household, except for the part that actually requires them ivory sycophant bixches Kim, Khloe and now Kourtney too actually live up to the baloney and fake squats, mini triathlons they're always doing in front of our tv sets. But then again that has always been the appeal of the Kardashian clan, talk a mean game, do a few close up self promos push ups and then sell that gold tinted family crested  bath towel for a no refunded credit purchase while sipping on them pina coladas.
go here to see more pictures of Kourtney re affirming her existence.
What diet? Here's Kim Kardashian looking bigger and bigger.
Oh dear! Kim Kardashian goes for a double work out as her butt becomes too big.
Oh Really? Does Kim Kardashian's ass look too big here too?
Oh my! Kim Kardashian tweets new bikini pictures. A bit pudgy?
Kim Kardashian's ass just keeps getting bigger.
My gosh! Khloe Kardashian loses 20lbs in 20 days. How did she do it?