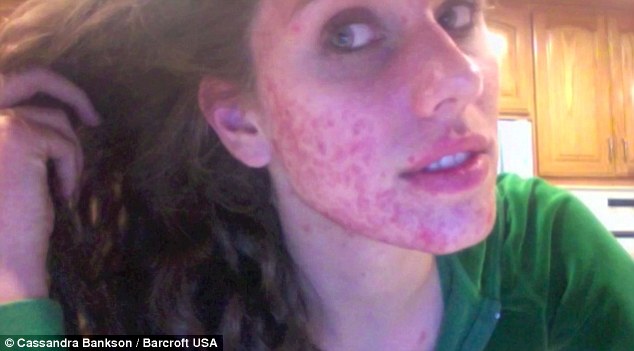 Cassandra Bankson is now having the last laugh…
The size 4 model first shot up to prominence last year after a ten minute video she made that she posted on youtube went viral. The video itself highlighted special make up tricks she had learned in order to disguise her acne.
With the help of a dermatologist Cassandra was then able to go on and conquer her skin condition allowing the young woman the confidence she needed in order to be cast as a model in the Boy Meets Girl's Spring 2013 collection.
But life until now wasn't all fairy tales, in fact so despondent was the 19 year old about her acne problem that she had even stopped attending school to avoid constant heckling.
Since the release of her youtube video which has hit 40 million views the young woman has been signed up by a number of modeling agencies and has posed for brands including Bebe and Range Rover.
Reflecting on her first runway post Cassandra reflected: 'It feels like a dream to be here during Fashion Week… I am a different person from who I used to be because I've got so much more confidence now,' 
With her skin condition improved by as much as 70 %, Cassandra who at the age of 14 was diagnosed with cystic acne  has now much to be thankful about. Going by the handle 'diamondsandheels14' on youtube the young woman who also has a blog aspires to create her own skin care range.
In the interim the young model intends to continue pursuing modeling and of course getting her own back at those who so often doubted her.