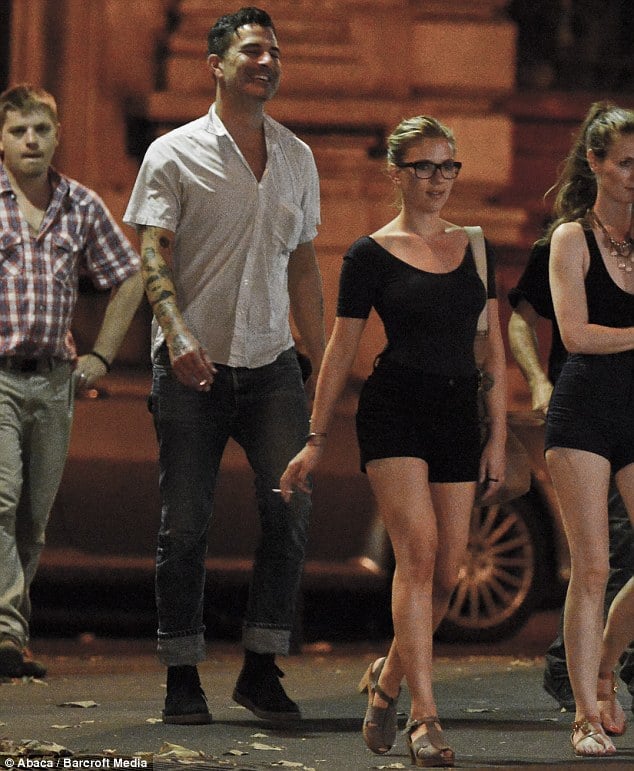 Paris will always be the city of love, even for high profile actresses with hawt bixches for boyfriends.
The paparazzi hardly wasted a moment snapping up images of actress Scarlett Johansson and her hawt bixch du jour Nate Naylor with whom she has been romantically involved with since the beginning of this year as they strolled the streets of Paris like a love chagrined couple who have more secrets between them than do two over excited dogs who have sex blisters between them. Then again Scarlett only has eyes for Nate who had come to join Scarlett during the shooting of her new film, the Avengers.
To his credit, Scarlett's hawt bixch Nate (who was hardly shy to show off his tattoos whilst Scarlett trolloped in her mini skirt) has been said to be remarkably adept at handling all the media attention that comes with being Scarlett's second fiddle. Then again Nate as a high powered ad executive (who could probably pass as his own onscreen action hero hawt bixch thank you very much) simply takes it all in stride as he continued whispering hawt nothing into Scarlett's tingling ear in the Parisian summer night air….
Don't you wish you had a love life that revelled the ones that so often come from silver screeens of fantasy too…? I know I do…
Scarlett Johansson's image is now being used to help sell XXX porn.
Scarlett Johansson wants to assure you she and Nathan are doing just fine on their yacht.
Scarlett Johansson would like you to finally meet her secret non celebrity boyfriend of 5 months: Nate Naylor.