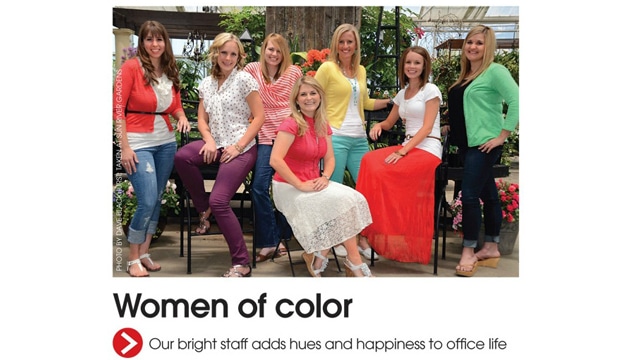 "Our bright staff adds hues and happiness to office life…"
Here's an interesting dilemma. Let's say you're an editor of a jovial magazine that likes to paint itself as a liberated and sometimes thought provocative mechanism but when it comes time to actually showing that you're this supposedly liberated device how do you actually go about letting readers know that you are the shit that you claim to be? Confused? Don't be. Utah Valley Magazine's editor in chief, Jeanette Bennett will attempt to desperately explain.
gawker: "Women of Color" is what editor Jeanette Bennett settled on for the July/August issue Utah Valley, which was pointed out to us by a tipster. Because look at all the colors! Red, yellow, green—is that melon? Oh and white.
"That was not intended as an ethnic comment," Bennett told me when I called to ask her if she was familiar with the traditional understanding of the adjectival phrase in question. "It was just clever wordplay. It was that women add color, and there's more than one meaning of color."
So does her magazine employ any actual women, or even people, of color? "We don't. I definitely don't think we're ethnically diverse. But we did have an article in this issue about the first African American Miss Utah Teen USA." So there's that.
I'm with Jeanette, why bother actually hiring women of color (it might after all shift the editorial policy a smidgen or not?) when all you have to do is have your strictly contingent of white female journalists dress in a playful array of vibrant colors?
Challenging points of views sometimes start at home unless of course you're not particularly inclined….