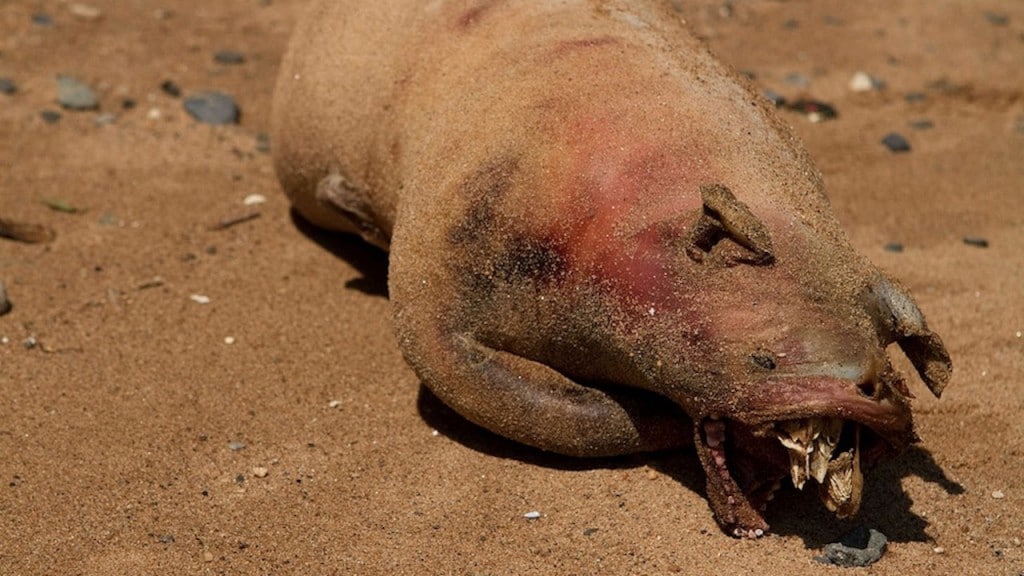 Photographer Denise Ginsley managed to come across something quite unusual over the weekend whilst walking along the greenway beneath the FDR in Manhattan. At first reticent and then finally brazen she decided to return with her camera, climb the fence and take the following pictures.
From there animalnewyork reports that Ginley sent the images over to Gothamistwho speculated that it was either a 'bloated rat monster' or a reincarnation of the famed 'Montauk Monster.' But it now turns out it's neither, well at least according to the NYC Park Department's press office (since when are press offices in the business of disseminating anything but lies anyway?) who opined "it was a pig left over from a cook out."
But not everyone is convinced the hawt bixch laying dead on the sand was or is a pig that met a sad death. The people over at NY mag are convinced there's something more that meets the eye (yes the government would have us believe anything).
Have a look and see what you think….(personally I think it's an overgrown lice that fell out of the sky whilst going abseiling across the Northern Hemisphere- but what do I know about strange rotting carcasses that turn up out of no where?)
The return of the Montauk Monster…