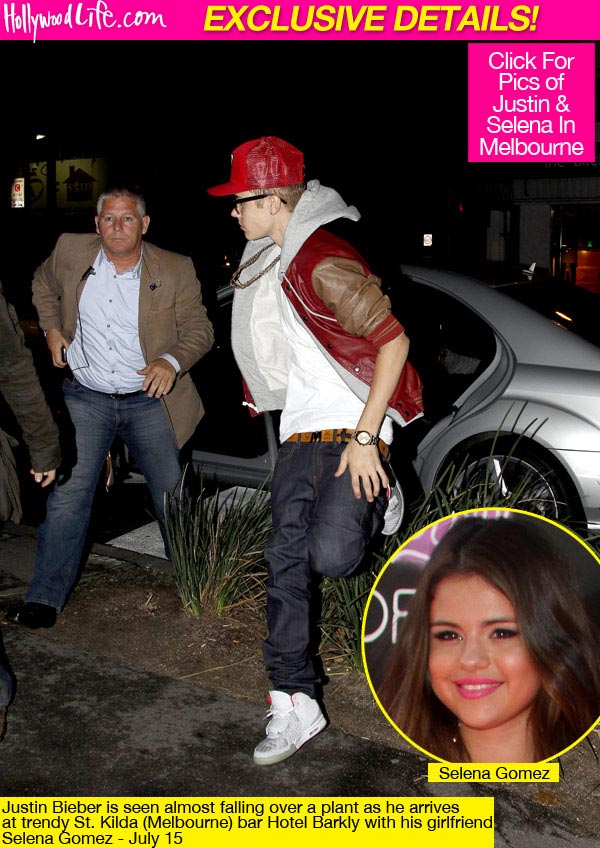 Looks like toy boy Justin Bieber is on a tear as he takes Australia by storm. There with his hawt bixch Selena Gomez (kids I'm sorry but I don't see that bixch leaving his sorry ass anytime soon) the young stud was quite the spectacle as he and Selena dined in the company of 14 guests at Melbourne's exclusive Stokehouse.
Of note was that the hawt bixch was downing the alchohol even if the legal age of drinking in Australia is 18 (of course that never stopped me when I was 16 and rollicking along Sydney's Bondi Beach) but of course Justin being the hawt bixch that he is I'm sure no one was the one the wiser.
After dinner the couple headed out to swanky Hotel Barkly where they tended to more drinks (oh Justin I'm bleeding from the inside of my kidneys) where it is said the hawt bixch put some moves on Selena and before long he was arm wrestling her tongue with his tongue. Hawt bixches!
Said a source: "They were sitting at a table in the back corner and they were canoodling," the insider tells us. "Justin ordered Heinekens and Selena drank vodka based cocktails. They were holding hands, kissing, and looked in love." (yes kids I'm trembling as I read along too)
Don't you wish you were young, lucky and loaded in love again too?
Go to Hollywoodlifefor more images of these bixches.