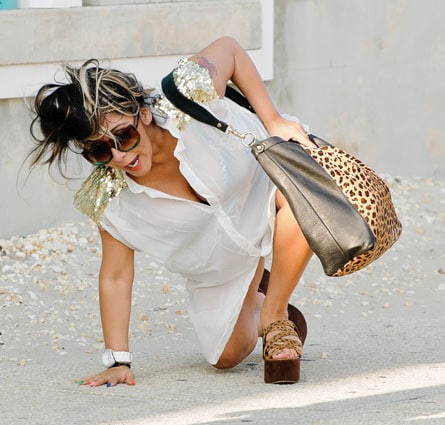 Look at what happens when you wear 12 inch clogs and itty bitty dresses whilst your pregnant ass shmoozes along the road and other tricks…
Life for Snooki has gone from inconvenient to agonizing to outright damn unfair. I know Snooki I feel your pain too. First you got had a series of ugly love relationships, then you finally found the right munchkin, then the munchkin got you fixed and then the show that you dearly love so much had to figure a new way to keep you on or off the air, then you had to stop drinking, then pictures of your naked pre pregnant self sporting green fingernail polish came out and you shook your head cause you didn't know who'd be so mean to release that shit, then things got tricky when your co media whore Jwoww had some chairs flung across her face, then your other media whore pal Deena 'Am I going crazy' Cortese got locked up for civil disobedience when you would normally be getting locked up for that shit and now your roughed up ass had the ignominy of crashing against some gravel cause the earth wouldn't behave and remain still as you strutted in those 12 inch clogs that God personally hand made for you. Snooki face it, life is a bixch!
Poor Chi Chi…
To see more photos (and to laugh your head off) you can check out dlisted
Snooki leaked nude pictures. So why did we all go gaga over naked Snooki?