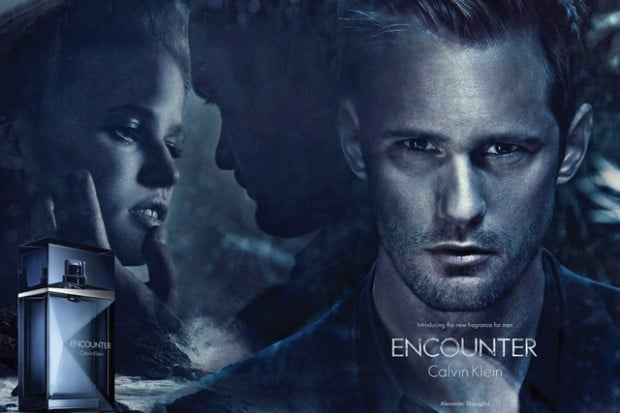 Using supermodels and movie hunks will always have you day dreaming and thinking of things you wish you could be…
Offered our hunk:
WWD: "Their idea for their concept was very intriguing to me — it was almost like a short film, and very film noir. It felt interesting to me. I wanted to be involved with something where you tell a story — even though it's a short story." 
fashionista: The print ad (above) will be accompanied by a TV spot, both of which will break in September and both of which will costar the lovely Lara Stone. Steven Klein shot the campaign, which Skarsgard described as "very film noir," and marketing guru Fabien Baron gave creative direction. Encounter will hit department store counters in the U.K. in late August, followed by a September global rollout, and is priced between $40 (for 1 oz.) and $72 (for 3.4 oz.). It will have "top notes of mandarin, cardamom and rum."
Isn't it time you hinted of a wet dream too?