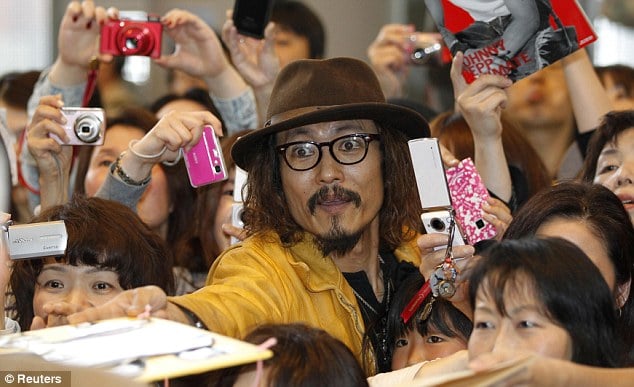 Who knew Johnny Depp had a living double in Tokyo of all places? High five all round!
Kids, I've had to re screw my eyeballs back to my eye sockets after laying my eyes on the above picture. Never in a million years could I have imagined that somewhere in the world there was a soul brave enough or blessed enough to come close to resembling that hawt bixch we call Johnny (no plastic surgeon I have sought could guarantee me cheekbones as blessed as Johnny's) will make you cream in your pants Depp. But god did have a surprise waiting for the bixch when he turned up in Tokyo, Japan and the world was forever changed. At least Johnny's.
This is what happens when celebrity impersonators take the time to bless real celebrities these days. Johnny must be crying in ecstasy (but was he momentarily confused I wonder?), whilst Ken Shimizu (his impersonator- he does this for a living actually) is just calling it another day at work.
Don't you wish you were this fabulous and gorgeous too? Unless of course you already are…