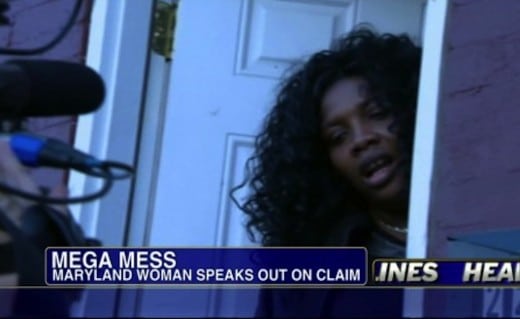 McDonald's worker, Mirlande Wilson now accused of scheming lottery jackpot payout.
Mirlande Martine is now the 'unlucky' lotto winner as real winners step up.
Anonymous winner to claim Maryland share of Lotto jackpot tomorrow. Will it be Mirlande Wilson?
You've got to be kidding me and other miserable adventures in Mirlande Wilson's life…
Msnbc have literally just come out moments ago with a story that preferred reality star of the lotto sweep stakes, Mirlande Wilson, wait for it, has lost her ticket and doesn't know where it is. Or as she succinctly puts it- 'I misplaced it.'
msnbc: A mother-of-seven who claimed she was one of the winners of the $656 million Mega Millions lottery told NBC News on Thursday that she has lost the ticket.
Asked by NBC Washington's Shomari Stone whether she was going to ask for her share, Wilson said, "if I find it [the ticket]."
Stone then asked Wilson if she had lost the ticket and she replied, "I misplaced it."
Kids, correct me if I am wrong but tell me you all didn't see this coming in the reality show called 'Mirlande Wilson living the lucky lotto.'
Ever since the NY Post first came out with a report earlier this week that Mirlande Wilson was the purported sole winner of a major lotto jackpot to the tune of $105 million, the media has been rife with speculationas to the veracity of her claims that her winnings were legitimate or equitably attained (her fellow co workers at McDonald's have angrily claimed that Ms Wilson cheated them).
On Tuesday Ms Wilson promised the world and a saturated media that she would be dropping by to collect her winnings later that day only to be a no show. Speculation mounted again once it was also alleged that Ms Wilson was not fielding calls or easily been found which then led to her leaking (yes this is what lotto winners are capable of) to the press that she would have a press conference the following day.
This of course then led to increased speculation as to why a purported lotto winner would actually need a meet and greet with the press when in essence all that needed to be done was drop by the Maryland State Lotto office with her winning ticket. By now Ms Wilson was offering that her 'winning' ticket had been 'carefully' hidden somewhere in McDonald'swhich to her co workers seemed an impossible feat as she had not been seen at the Milford Mill branch where she worked since leaving the premises the previous Friday to buy her purported 'winning' ticket.
By Wednesday evening, Ms Wilson's lawyer, Edward Smith Jr was imploring the press to leave his client alone and insisting that the press graciously allow Ms Wilson a measure of courtesy and civility and to desist from the rampant speculation surrounding the actions of his client who would 'when ready' eventually come and claim her 'rightful' prize money. It as was of course interesting to note that during this meet the press session, Ms Wilson remained silent as she almost nonchalantly gazed out into the abyss.
Which brings us to this morning's grand finale of Marlene Wilson's reality show: living the lucky lotto with her now admitting that she doesn't know where her ticket is which only raises contention if she even had one to begin with or if she did lose it how could this possibly be the case? Then again, should one be surprised when one purportedly hides what amounts to be a $105 million check next to a jar of pickles and ketch-up at the local McDonald's?
Reiterate's Maryland's Lotto office: Maryland Lottery director Stephen Martino said the winner has until Sept. 28 to claim the prize. The winner has to do so in person, but doesn't have to make their identity public. Two other winning tickets were sold in Illinois and Kansas.
Martino said that officials have looked at surveillance tape at the 7-Eleven, but that there is an issue because the timestamp on the tape does not exactly match the timestamp of the lottery ticket machine, so they can't be exactly sure who bought the ticket from that video.
Because of all of the rumors swirling around who possesses the ticket, Martino is urging people who bought tickets at the 7-Eleven to check their tickets again to make sure they don't have the winner. He said he hopes that people haven't thrown out their tickets thinking that someone else won, only to have had the winning ticket all along.
Oh dear, let's hope some hapless soul didn't throw their ticket away thinking that it had already been won by Ms Wilson who when pressed by NBC if she had made this whole story up (do you think?) replied the following:
Wilson, a Haitian immigrant, told Stone that her situation was "really stressful."
Amid continuing doubts about her story, Stone asked her if she had made it up.
"I didn't make up the story," Wilson told him. "I did not make up no story to get no attention."
One can only imagine the dour reception that Ms Wilson will soon be receiving as she begrudgingly returns to her $7.50 an hour job at McDonald's amongst fellow co workers who no doubt will be wondering if Ms Wilson squandered their collective fortune even if before she collected it. Of course one does wonder on some level if this is a ruse to deflect attention from the press and hostile co workers who will be watching her every move in the weeks and months to come ahead…
Mirlande Wilson appears with her lawyer but with no winning ticket.
Mirlande Wilson's shocking secret: 'The ticket is hidden at McDonalds…'
Mirlande Wilson is now a diva. Promises to hold press conference with lawyer Wednesday.
Mirlande Wilson: Now gone in hiding. Co Workers furious.
Mirlande Wilson fails to collect her winning prize. Is there something fishy going on?
McDonald's worker wins $105 million lotto jackpot but now refuses to share prize with co workers.