McDonald's worker, Mirlande Wilson now accused of scheming lottery jackpot payout.
Mirlande Martine is now the 'unlucky' lotto winner as real winners step up.
It has ended up becoming up fellow co workers worst nightmare: that of contributing towards a pool that ends up being the winning ticket but somehow being denied a share of the proceeds. $105 million proceeds to be exact that is…
To say that 37 year old Mirlande Wilson's co workers at a local McDonald's branch in Maryland are outraged with her would be the understatement of the year, but then again it seems Mirlande Wilson has little love lost for her co workers either who in her eyes are just trying to grab a piece of what she perceives to be her sole lotto winnings of $105 million over the weekend.
It all happened after co workers chipped in to buy tickets towards the $656 million payout that was on show, but at the time of purchasing tickets, Mirlande Wilson is insisting that she also bought a ticket under her own name, separate from the other designated tickets from the pool- and of course it is this ticket that Mirlande Wilson has decided to claim is the winning ticket- the one that she incidentally bought under her own name…
Says Mirlande, a single Haitian immigrant with 7 children : "I was in the group, but this was separate. The winning ticket was a separate ticket,"
But Mirlande's co workers who like her make $7.50 an hour working for the fast food vendor don't see it the same way she sees it.
Says Osman Husein Suleiman one of 15 members of the pool : "She can't do this to us! We each paid $5. She took everybody's money!"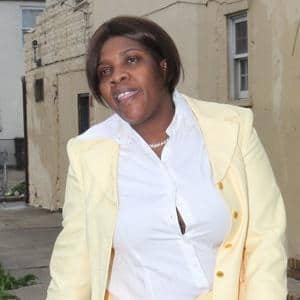 Reiterates the NY Post: A man identifying himself as the boyfriend of a McDonald's manager named Layla, who was part of the pool, said Wilson bought tickets for the group at the 7-Eleven in Milford Mill, where the winning ticket was sold.
The group's tickets — along with a list of those who contributed to the pool — were left in an office safe at the burger joint, said the man, who gave only his first name, Allen, as he stood next to Layla. She declined to comment.
Then, late Friday, before the night's drawing, the owner of the McDonald's, Birul Desai, gave Wilson $5 to buy more tickets for the pool on her way home from work, and she went back to the 7-Eleven and bought them, Allen said.
Wilson took those tickets home with her, Allen said.
But Wilson insisted yesterday that she had bought the second batch with an unidentified pal — not for the pool — and that the winning ticket was among them
Maryland McDonald's Worker Mirlande Wilson Claims She Has Winning Mega Millions Ticket: MyFoxDC.com
Of course what leaves room for doubt, is how can the group physically claim the extraneous  tickets that Ms Wilson bought wasn't with the money they had given her as the tickets were not in a locked in a safe. Conversely it could be said that Ms Wilson has no proof that the winning ticket was one that was acquired under her own name either, except to say one has to trust that she is telling the truth.
But then something strange happened. After having called in to let her colleagues know that she had won (as opposed to what co workers were expecting her to say, 'we' ), two of them went to Ms Wilson's home and started banging on her door to come out. Eventually after 20 minutes she did to which effect one of the co workers told Ms Wilson that if she didn't share the prize money they would kill her. To which she has been said to respond:
"All right! All right! I'll share, but I can't find the ticket right now."
Only to later change her story over the weekend. At present Ms Wilson is waiting for lotto to confirm her winnings (she has declined showing the winning ticket to fellow workers and has even stated that she is now not sure if she won at all except to say certain numbers looked familiar) and if need be it might decide if her co workers have a legitimate case to force Ms Wilson to share the winnings, something that might be technically difficult to do as they have no physical record of the winning ticket in their possession.
If Ms Wilson is indeed awarded the lotto winnings she can expect to receive a lump sum of $105 million or $5.59 million a year for the next 26 years. Either way that's a lot more than $7.50, something Ms Wilson's (soon to be ex ) co workers could bitterly attest to….
Rounding out the story is the assertion according to the clerk at the 7-Eleven where Ms Wilson purportedly bought the ticket that according to the clerk he doubts Ms Wilson even bought the actual winning ticket, especially after lottery officials reviewed store video footage.
Either way one has a gut feeling whether Ms Wilson comes home with the bacon or not, Friday was the last day she would ever set foot in a local McDonalds, for preservation sake.
Anonymous winner to claim Maryland share of Lotto jackpot tomorrow. Will it be Mirlande Wilson?
Mirlande Wilson achieves the impossible- "I lost the ticket!"
Mirlande Wilson appears with her lawyer but with no winning ticket.
Mirlande Wilson finally speaks: The ticket is hidden at McDonalds.
Mirlande Wilson is now a diva. Promises to hold press conference with lawyer Wednesday.
Mirlande Wilson: Now gone in hiding. Co Workers furious.
Mirlande Wilson fails to collect her winning prize. Is there something fishy going on?