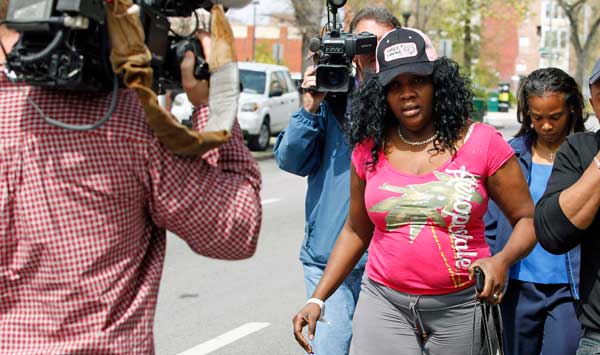 McDonald's worker, Mirlande Wilson now accused of scheming lottery jackpot payout.
Mirlande Martine is now the 'unlucky' lotto winner as real winners step up.
Mirlande Wilson: living the lucky lotto. 
Kids it's time to brace yourself and dream sweet dreams as Maryland's Lotto office will finally present a $106 million check sometime tomorrow to some lucky individual who has decided to finally come out anonymously and claim their winning prize. The $6 million question is will that person be Mirlande Wilson?
So far a winner from Kansas has also claimed their share of the three way split of $656, with the only state missing is Illinois as officials wait for the winner there to turn up with to claim their share to the jack pot. Nevertheless all eyes are on a 37 year old woman by the name of Mirlande Wilson who ever since she uttered the phrase,' I misplaced,' my tickethas deflated most pundits expectations that she was ever a legitimate winner but rather a lucky lotto attention getter.
Of course others are wondering whether Ms Wilson, who with her lawyer, Edward Smith Jr called a press conference last week only to tell journalists at the meeting to effectively get lost are up to something crafty? Prior to having declared that her 'winning' ticket was missing, Ms Wilson had declared her ticket was somewhere carefully hidden away at McDonalds before backtracking to say she hadn't yet checked her jeans come last Friday.
The back and forth behavior hardly pleased her fellow co workers who had pooled in money for a slice of any potential winnings only to be cut out by Ms Wilson who at the beginning of last week had all but insisted the winnings belonged to no one but her and of course Haiti, her mother land where she would return forthwith to rebuild the ravaged territory.
Current theories include the mother of 7 and &7.50 an hour employee of McDonald's (no word whether she has returned to work or even has a position to return to work to?) may have a decoy going in tomorrow to claim the money for a percentage of the money to keep irate co workers off her back. Others on the other hand wonder if Ms Wilson was just living an extended fantasy and in the end couldn't dare release herself from the impossibility and fragility of her own situation (she has 7 children to a number of different number of men with no steady partner)and decided to maintain the illusion that she had somehow one as to somehow to defer the crashing back to reality.
The winner of tomorrow's share of the jackpot have announced that they wish to keep their identity hidden, that said, if one is to guage whether Ms Wilson has anything to do with the winning ticket it may be a situation of watching to see if a red Porsche ends up on her front lawn come Friday morning…
Mirlande Wilson appears with her lawyer but with no winning ticket.
Mirlande Wilson's shocking secret: 'The ticket is hidden at McDonalds…'
Mirlande Wilson is now a diva. Promises to hold press conference with lawyer Wednesday.
Mirlande Wilson: Now gone in hiding. Co Workers furious.
Mirlande Wilson fails to collect her winning prize. Is there something fishy going on?
McDonald's worker wins $105 million lotto jackpot but now refuses to share prize with co workers.