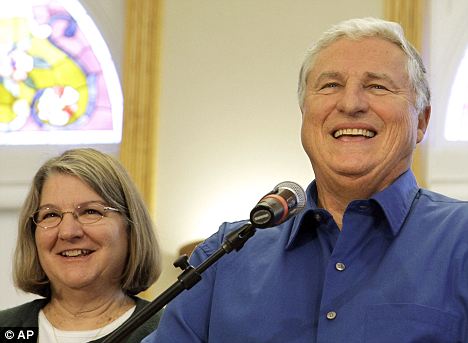 An Illinois couple have today stepped up and claimed the third and final share of last month's record $656 Mega Million jackpot. So elated were they when they discovered they had won, the couple have said to have giggled for up to four hours before calling immediate family. The next day saw them turning up to their bank where they put their ticket in a pickle jar safety lock.
Meet Merle and Patricia Butler. As of today they are new inductees in the millionaire club, courtesy of good fortune which saw them draw the winning numbers of last month's Mega Million jackpot. And what did it cost them to win all their new found loot? Three solitary dollar bills.
The couple both retired analysts in their 60's waited until today to step up and claim their winnings. This after hiring a good publicist and calling in the media for a pony show 'real good financial advisers and lawyers,' to advise them. Which led to them opting to taking their winnings in one lump sum payment of $158 million.
Said to have spent their entire lives in the small town of Red Bull, Ill, population 3700 persons, the couple happened to have bought their ticket at the town's local MotoMart, which led to the owner of the outlet being awarded a $500 000 bonus from Illinois lottery, of which the owners graciously shared $50 000 with their 9 employees.
The first thing on the couple's agenda now that they have collected the money? They're going to treat themselves to a vacation, hopefully somewhere way out of town….