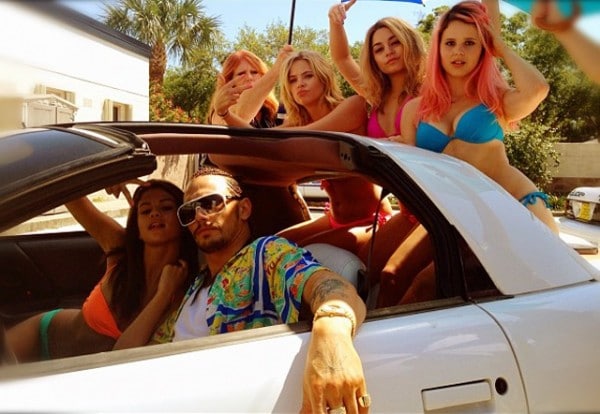 Finally K-Fed can leave his sandal and white sock legacy to the world and be proud that it will soon make movie goers weep.
The above picture is designed to make you vomit. Vomit not because it is inherently reminiscent of the trash that you dread coming across when you finally make it down to the local mall, not because it aesthetically that displeasing, nor because you should all be trained by now to sneer at men who have the illusion that a hot car and pinkie rings will draw the babes but vomit because it is the utter pandering to a cultural relic that America had all but for now had buried and forgotten but have insisted in resurrecting because nothing says 'we still think about ya' than 'this is something that happened when I close my eyes and remember when Kevin Federline was once in the prime of another life.'
Nevertheless it is exactly what teenage fame whore Selena Gomez tweeted in anticipation of the soon to be irreverent Spring Breakers of her and scuz ball James Franco who telepathically was able to effuse effortless K Fed sleaze and vulgarity without betraying a trace of irony.
So as spring rolls out do yourself a favor and buy yourself a flashy convertible, a pair of oversized plastic sunglasses, fake ass cubic zirconia pinkie ring, a pony tail and begin living your fantasy as America's most desirable guido drug dealer look alike and watch all them babes fall at your feet.