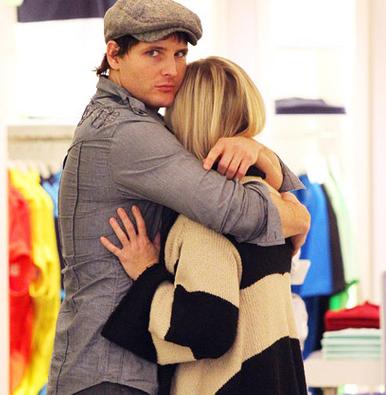 As we first broke the story last night right here on Scallywag & Vagabond, Peter Facinelli & Jennie Garth have called it quits. Now we're getting details from our source saying a third party was one of the "many reasons" behind their split.
Our source tells us, "Peter had been seeing another woman for quite some time. They tried to make it work for the sake of their children and Jennie played housewife for as long as she could but finally had enough."
On the affair, they say, "Jennie knew. As a lot of couples do, they simply grew apart. As the mother of his children, Peter still loves Jennie very much and vice versa."
So just who is this other woman? Our source tells us a she is a Canadian woman in her late 20's. "Understandably, she does not want to be identified by the media." She and Facinelli began what's being called as a "short, torrid affair" in Vancouver during the filming of the final installment of the Twilight saga, Breaking Dawn. When asked if the two were still together or in contact? "No comment," says the source.
In a joint statement, the couple say, "While we have decided to end our marriage, we both share the same deep love and devotion to our children. We remain dedicated to raising our beautiful daughters together. We ask for privacy and respect during this time."
Breaking: Peter Facinelli files for divorce whilst Jennie Garth pleads to save marriage.
The curious case of Internet stalker and savage Brianne Patterson.
Peter Facinelli purported lover is fired for refusing to out herself.
Peter Facinelli's mystery woman said to be very much in love with him.
Blind item suggests Peter Facinelli porked fellow Twilighter
EXCLUSIVE: Mystery woman opens up about alleged affair with Peter Facinelli
Peter Facinelli now denies affair ever took place
Peter Facinelli affair took place with wife's consent at downtown Sheraton Vancouver hotel
BREAKING: Peter Facinelli lover steps up and reveals he had an affair
BREAKING: Peter Facinelli & Jennie Garth divorcing