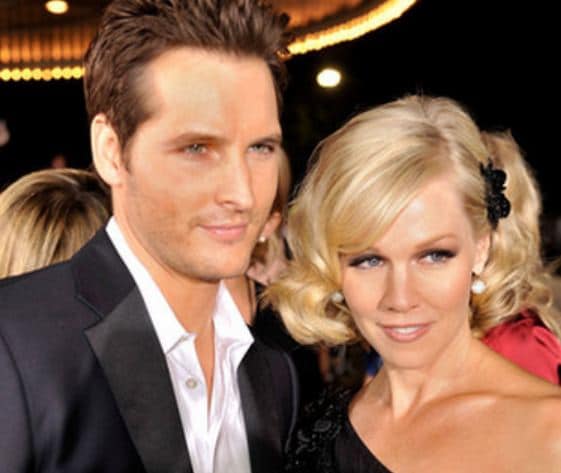 With yesterday's shocking announcement of Peter Facinelli and Jennie Garth's divorce, rumors have been circulating ever since. At Scallywag & Vagabond, we can confirm that Facinelli did not have an affair with his Twilight co-star Tinsel Korey. However, we can also confirm that we've gotten an exclusive interview this evening straight from the woman who claims to have had relations with the 38 year old actor – though Facinelli vehemently denies it. Of course we had plenty of questions for the 26 year old Canadian woman, who at this time wishes to remain anonymous.
When asked the reason behind wanting to keep her identity a secret, she told us, "Because I'm not like most people. I don't want my fifteen minutes of fame, I couldn't care less about being in the spotlight, I just want to get my story out there." Of course that only led to more questions – like why even bother? Her response was that, "For the past three years I have carried the guilt with me. There was literally no one I could talk to about it."
So just when did this alleged affair really begin? August of 2009, during filming of the Twilight saga, Eclipse, says the woman. She would not go into details about just how many times her and Facinelli got together, however stated that they again connected in early 2011 during filming of the saga's final installment, Breaking Dawn, thus making it a 2-year-long fling.
And just where did Jennie Garth play into all of this? Did she truly know about the affair like sources have said? "I wouldn't say she knew, but I wouldn't say she didn't know either," says the woman. While Garth had been spotted in Vancouver when this alleged affair first began, the woman says her and Garth never crossed paths. As for how the affair ended, "I just knew it was wrong. I ultimately didn't want to be responsible for the dissolution of someone's marriage and family and I knew nothing would ever come out of it anyway." The woman also claims she was not the only female that Facinelli was allegedly shacking up with – accusing him of "experimenting" with males – one being a younger co-star. Taylor Lautner, perhaps?
What does she think about Peter and Jennie issuing a statement denying the rumors of infidelity and was she hurt by it? "Not at all. I understand it," she says. "I don't think anyone, especially someone in the public eye would come right out and say, 'Oh yeah, I cheated,' you know? So I get it. Peter's a good guy, despite it all."
When asked if she would do it again, we got a rather surprising answer (which seems to throw the guilt she carries right out the window), "If you had the chance to hook up with a famous celebrity, wouldn't you? I'm just being honest!" Oh, and what about her credibility being on the line? "People will believe what they want to believe. That's their prerogative," adding, "The proof will come to light eventually."
Breaking: Peter Facinelli files for divorce whilst Jennie Garth pleads to save marriage.
The curious case of Internet stalker and savage Brianne Patterson.
Peter Facinelli purported lover is fired for refusing to out herself.
Peter Facinelli's mystery woman said to be very much in love with him.
Blind item suggests Peter Facinelli porked fellow Twilighter
EXCLUSIVE: Mystery woman opens up about alleged affair with Peter Facinelli
Peter Facinelli now denies affair ever took place
Peter Facinelli affair took place with wife's consent at downtown Sheraton Vancouver hotel
BREAKING: Peter Facinelli lover steps up and reveals he had an affair
BREAKING: Peter Facinelli & Jennie Garth divorcing