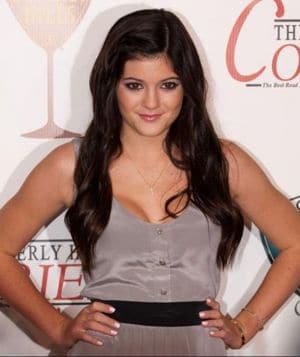 Kids, I've tried and tried and I have to confess I have resorted to looking for a jack hammer to poke my eyes out. NEVER in my life have I laid my eyes on such a brilliant man impersonator as Kylie Jenner, but that is just the luck that the Kardashian brood carries with them.
Horror spectacles aside (I know this bixch is going to deface me as well…blah!) 16 14 year old Kylie has been slotted to thump the runway for Avril Lavigne's Abbey Dawn show this coming Monday.
Besides the man impersonator issue it's also come to the attention to various fashion bloggers (such as styleite) that Kylie is a tad too young to be strutting the vestiges of humanity. But never mind, what Hollywood wants is what Hollywood gets:
Of course, Kylie's participation in the show shouldn't come as much of a surprise — Avril's boyfriend is Kylie's half-brother Brody Jenner. And since the Kardashian krew rolls deep, Kim and Kourtney are both expected to sit front row at the show.
So whilst the rest of humanity learns to be 16 before assaulting us with their strutting prowess, the gods called Kardashian INC have decided they know better and will blatantly skirt a few heavily suggested rules to make sure that their hawt little bixch gets her early Xmas present. A walk on the wild side.
Kids: seriously, don't you wish you were an underage man impersonator media/fashion whore on the make, unless of course you already are…?