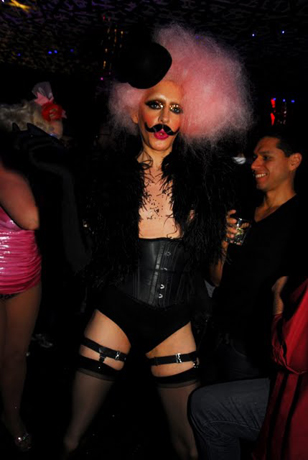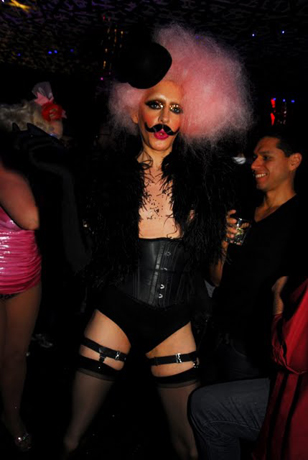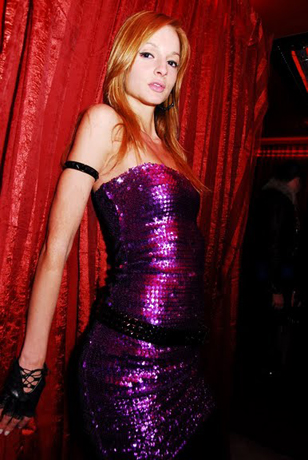 There's something to be said for pulsating blasé boys and the (faux) lasses that love them. Truth be told we love them too. In keeping with the flamboyant and ultra chic flair that the world otherwise knows as Kenny Kenny and his divine cohort Susan Bartsch we went along Tuesday night to their newest haunt – BonBon at supper club/night Juliet. If you didn't mind Kenny Kenny thumping his stilettos into your feet and the delight of watching Susan twirl with her Salvador Dali retro moustache while the boys and girls who love them free wheeling in abandon this my dears is the place for you. Let us warn you now this ensemble is never for the feint of heart which one figures in 3 minutes Kenny Kenny assiduously planned all along…
From Mick Jagger to electro disco and the hearty beat of Divine's "Born to be Cheap," the ensemble was a free wheeling entourage to ripped shirts, slinging tongues and pointed stilettos. Transgender, transgressional, transcendent we didn't care, how could you we were all having so much fun. The usual suspects were there, Amanda Lepore, Michael Musto, Roy Kean,cute boys, cuter girls and the mayhem that we adore. Of course we're still wondering about that one boy who lost his shirt somewhere on the dance floor, but then again that probably put a smile on Kenny Kenny's face and invariably ours too.
Every Tuesday from 11 pm onwards, courage and glam preferred.