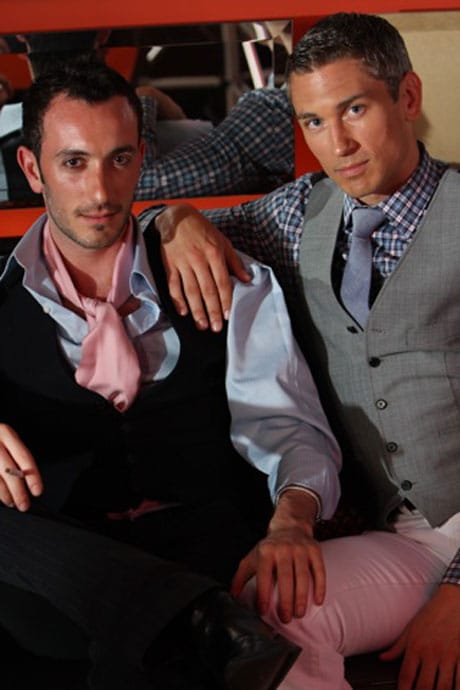 Entering Japonais is crossing from the heart of a metropolis irreverently bustling around the clock in Manhattan's GRAMMERCY Park district into a serendipity of subtle au courant—the restaurant is all mirrors and mood lighting. Downstairs, such lighting gave the dining area a chiaroscuro due to the darkness of the earth-tone motif. On the other hand this only helped to illuminate the golden appeal of the guests and hosts themselves- Frederic Blic and Mallory Mottoulle of Lutece Productions.
Is this what Tuesday Chic looks like? Upstairs held the answer—the event, held every week, began at the landing of the restaurant's staircase that stands agape and inviting just before the front door. The air was no thinner, but remained germane to the theme of chic and cool—the crowd was gorgeous and diverse, unassuming and true to trendy. Beside the kiosk where ladies were getting their makeup touched-up, speakers powerfully pumped with trip hop and house. Overlooking the rest of the restaurant like a balcony, one could get lost in the stylized expanse of interior design that feels akin to sipping wine.
On this particular night, Amanda Lepore made her fabulous appearance(then again she always makes a fabulous appearance). Alighted in this upper area, she was right at home amid the fashion-and-socially-conscious. As foreseeable, she was well received. Maybe too well…
Twenty-to-thirty somethings laughed and quipped; it was a relaxing way to socialize. While some were dapper to the nines and tens, others donned their Bushwick-Williamsburg chucks and backpacks; bless, though, there were no holes in the clothing, no funny hats, and no preponderance of hair gel. Hairstylists, makeup designers, fashionistas, and young businesspeople simply vibed—and isn't that what it's all about? Some of us can wear jewelry, others, cigarettes behind our ears, but it's all the same; eventually, the beautiful all begin to look alike.
Thankfully the bar was ever present, so after a while I stopped counting all the beautiful people that kept sashaying past. If only it could have gone on a little long without me having to worry about the impending Wednesday morning hangover…