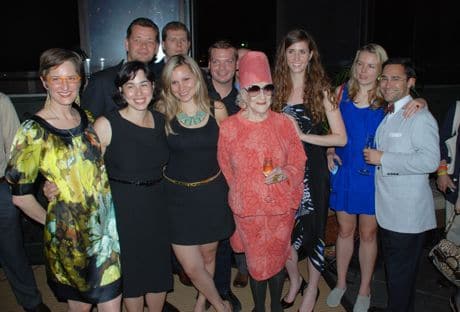 The Gramercy Park Hotel hosted the 95th birthday celebration of elder club kid and New York icon Zelda Kaplan this passed Tuesday night in New York City. The private event was supported by The King Collective to assist in raising funds for the non-profit organization Millennium Promise through the silent auction of various portraits of Ms. Kaplan (among the notable artists were Andres Serrano, Noah G. Pop, and Patrick McMullan).
Other supporters of the event included Crumbs Bake Shop which provided the most truly divine cupcakes and other sweets for the event (where's a doggy bag when I need one?). Wine Wave gave us the complimentary drink of choice for the evening with Cocody Productions bringing it altogether with an appropriate backdrop beat.
A few notable attendees for the festivities were fashion designers Erin Fetherston and Andrew Buckler, fashion photographers Mani Zarren, Joel Warren, and Edward Tricomi, and Scallywag's favorite socialite Tinsley Mortimer. Last, but most certainly not least, was New York fashion icon Patrick McDonald. Other expected guests never showed face: Amanda Lepore, James St. James, and Richie Rich (who I later discovered was in Miami).