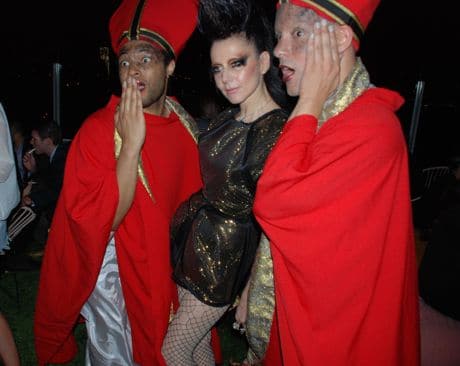 If anyone knows anything about NYC underground it's that Kenny Kenny and Susanne Bartsch have been best friends and the most unlikely business partners in the world of nightclubbing going on for 20 years. He a romantic Irish dandy runaway and her an uber chick into brawn muscle and kinky overdrive. Business partners and constant cohorts until now that is (Sunday night at Greenhouse stills seems to be a go for the time being).
That said, we sent out Kevin Novinski to find out exactly what's going on between these two as they both try to carve up the turf on the new it night of the week- Tuesday. Kenny Kenny with Amanda Lepore and Joey Israel at Ganseveroot Park and Susanne Bartsch and new star on the scene Kayvon Zand at the Standard Hotel's Le Bain.
Either way, this Scallywag is hoping things are patched up soon. But time will tell...
Breaking news. We have learned since going to press Kenny Kenny has brought it to our attention he will no longer be presenting Tuesday night at the Gansevoort Park, apparently he is not too pleased with management there and feels that if they can promise him the roof top but only deny him an hour later there is no telling what else can go wrong. That, or Kenny has had a change of heart?- Scallywag-The Editor.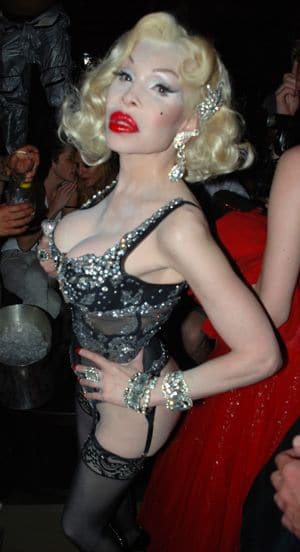 If you ever wondered what it would be like to hang-out in Amanda Lepore's Penthouse (not her real one, of course) you should have been at the Gansevoort Park Avenue Hotel on Tuesday night which saw the grand opening of a new party presented by Kenny Kenny and Joey Israel. The lovely Markus ushered me through the door to an elevator, which for some reason took quite a bit of time delivering guests to and from the penthouse. After a brief wait I was then dropped off at the venue which consists of the Penthouse level which is broken up into a large main bar and dance floor while immediately above it is a smaller overlook which gives a nice bird's eye view of the surrounding action below. In attendance were photographer Jeremy Kost, Jordan Fox, Veruca La Piranha, the always perfectly attired Patrick McDonald, fashion curator Andrew Clancey, and columnist Michael Musto (why am I always running in to you everywhere I go? Destiny?).