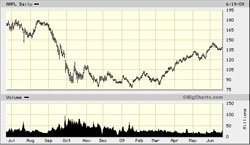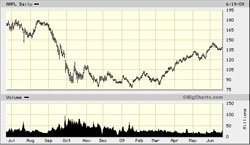 When you're an important CEO you should never disclose your health especially if it might make your stock go down…
Here's an interesting tale from the Wall st Journal about a CEO of one of the world's most widely held sotcks- Apple – aka APPL on Nasdaq. The journal reports that Steve Jobs, Apple's CEO had a liver transplant about two months ago unbeknownst to the majority of the share holders.
What's of course interesting if anyone pays attention to the general trend of the stock chart ( in the picture above ) is how the stock managed to keep rallying.
Of course this only makes us wonder had the investors known about the impending liver transplant would the pointy part of the chart pointing upwards would've been pointing diametrically the opposite way?
We don't know, but thank goodness for Steve Job's publicist who managed to keep things like this hush hush and the rest of you a little richer for the time being…