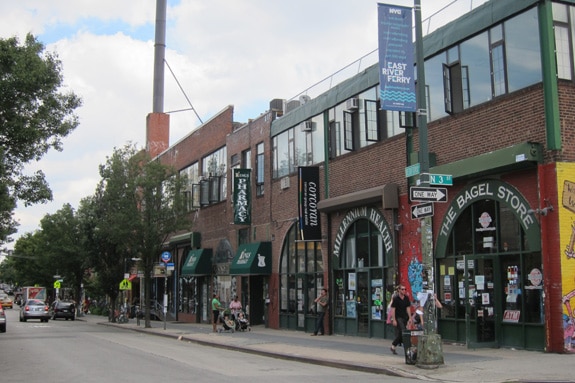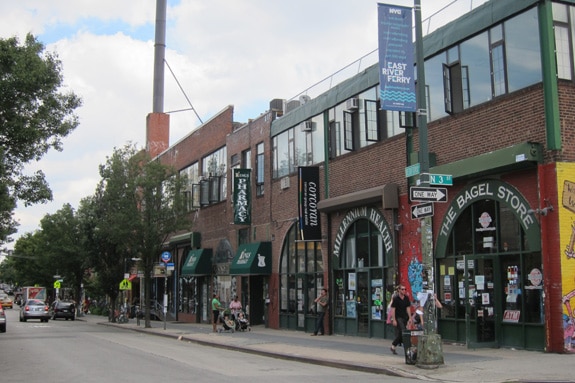 For those of us who savored a sweet spot for Williamsburg, Brooklyn as a former outsider community riddled with an overriding artistic bent full of wonderful op shops and off the beaten path gems, that may at last all be good and dead with the news that Apple is to now open in Williamsburg. Along with all the other corporate behemoths that now call the 'hipster' enclave home…
Williamsburg is officially gentrified. Hipsters can now check in at the Whythe Hotel.
It's confirmed. Living the dream of a Williamsburg artist is dead.
The move comes off the back of new additions in the neighborhood in recent months (yes I don't recognize the area where I once rented a 100o square foot loft for $600 a month) including consumer/bourgeois staples such as Duane Read (across the road where Apple will be conveniently located on North 3rd and Bedford), close by to the future Whole Foods site, and just a short walk from J. Crew, Starbucks (isn't that the ultimate oxymoron for an enclave determined to treasure indie consumption), and Urban Outfitters who have already made the hipster corporate enclave their own. Which is to say hipster is certainly out (let's not even dare pretend) and bourgeois and upward mobility is finally in. But are you surprised? Take a stroll along Kent avenue please and don't even dare whisper the going one bedroom cookie cutter apartment rents (upwards of $3.5K a month).
As gothamist notes the new Apple store which will make the monster store the first outlet in Brooklyn will rest on a lot formerly occupied by The Bagel Store, a small health food store, and an independently-owned pharmacy.
Reports the nypost: Ending years of speculation, the tech-products powerhouse has signed a long-term lease for a 20,000-square-foot store at 247 Bedford Ave. at the corner of North 3rd Street, brokerage community sources definitively revealed.
Adds the post: The landlords, Red Sky Capital and Waterbridge, were represented by Lee NYC managing principal Peter Braus and his Brooklyn retail leasing team.
The two-story brick structure, a few blocks from the Bedford Avenue L station, is getting a whole new look, featuring dramatic, arched windows, to be completed in April 2015.
There was no word on how soon Apple will move in or what it will pay. In 2012, Braus told the Real Deal that asking rents for 247 Bedford's redesigned retail space would run from $185 to $200 per square foot.
Whilst some of us might complain at the increasing gentrification of a neighborhood which for some of us holds dear memories of eclectic evenings out (those venues are now gone too, including Glasslands, Death By Audio, The American Trash Bar -before most of your time in 2004 ) others might be leaping for joy as the area at last takes on the commodification once reserved for Manhattan as the creative class continue to be pushed out into nether ever land. Yes I moved back into Manhattan alas.
That said let's face it, both you and I will be soon making the Apple store in Williamsburg our home away from home as we the moneyed set continue to dominate and impose their 'charmed ways' into our backyards….and we look for the spare change to pay for our $2.25 $4.50 caffe lattes along with the mandatory (or else) $1 tip…
above image found here