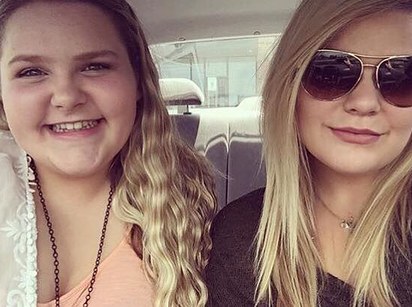 Christy Sheats punish husband: How one Texas mother choose to take the life of her daughters to punish her husband over perceived marriage breakdown.
New revelations have told that Christy Sheats the Texas mother that fatally shot dead her daughters, Taylor and Madison Sheats last Friday did so out of spite and as a way to punish her husband whom she had recently reunited with after having previously separated. 
The shooting according to family friend Madison Davey came after the crazed mother 'called husband, Jason Sheath's  bluff during a heated confrontation which culminated in the mother killing her two daughters along with making an attempt on her husband's.
Told Davey via KTRK: 'He told Christy, 'Just shoot yourself. Make it easy on all of us, just shoot yourself,'
'No, that's not what this is about, this is about punishing you,''
Adding: 'I always knew something would happen, but I never thought she would do this. Christy was toxic for the family. She was mentally unstable.'
From there, mother Christy Sheats brandishing a.38-caliber gun pumped several bullets into her daughters, Taylor, 22, and Madison, 17, in the middle of the street — having even gone back inside the house to reload so she could finish off Taylor.
Sheriff's deputies responding to the chaotic scene fatally shot the mom, who had a history of mental illness.
Christy Sheats motive: 'I want you to suffer forever Jason'
Christy Sheats 911 tape: 'Please mommy don't shoot the gun'
Did Christy Sheats object to Juan Sebastian Lugo, daughter's fiance?
Taylor Sheats killed by Christy Sheats three days before her wedding
Did Christy Sheats history of mental illness lead to shooting?
Christy Sheats husband, Jason: 'Don't do this. They're our kids.'
Christy Sheats gun lover: 'I want to protect my family'
Why did Christy Sheats Texas mom shoot daughters dead?
Cops from the Fort Bend County Sheriff's Office had been called to the Sheats home on 14 separate occasions since 2012. Of those 14 times, three visits according to a report via people were as a result of suicide distress calls from Christy Sheats. 
Other instances of police arriving at the Katy area home had to do with the home's alarm system.
Not necessarily understood was whether the suicide attempts led to the mother being committed for any treatment and how or why the family allowed her to brandish weapons as Christy Sheats openly did so during facebook posts where she championed her right to bear arms. This despite having gone through no less than three purported suicide attempts.
Davey went on to tell that both daughters had a very close relationship with one another and their father.
'He was the best dad ever. I would hang out with him and he loved being around us. And they were so funny — for sisters, you would think they would fight, but no,' Davey said. 'They loved each other a lot and were always laughing.'
A funeral for both sisters is expected to take place in Alabama later this week.
'He (Jason Sheats) would do anything to protect them and he tried to, but Christy was out to kill that day,' Davey said.