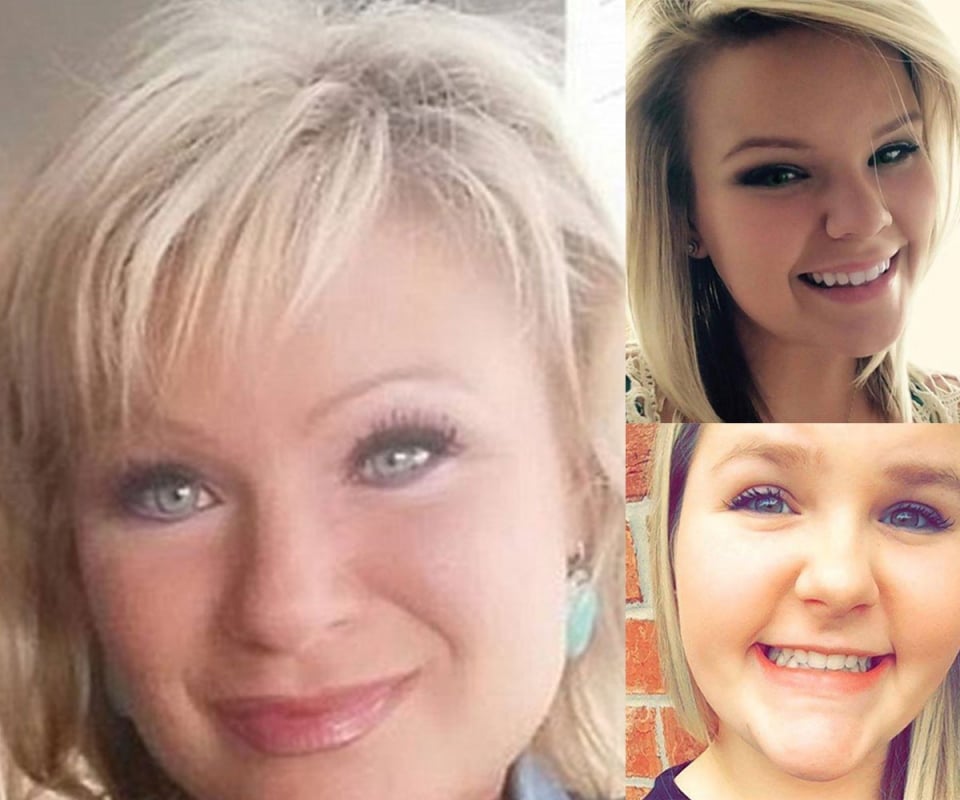 Christy Sheats 911 tape: Chilling last moments before a Texas mother shoots her daughters dead as they desperately plead for their lives.
Authorities have released Christy Sheats 911 dispatcher tapes as the Texas mother's daughters, Taylor and Madison desperately called police as their mother took to brandishing a pistol and threatening to shoot.
In the audio released by Fort Bend County Sheriff, the final moments of the daughters can be heard as Madison, 17, is heard begging her mother, 'Please don't shoot the gun,' amid chaos and screaming at the family home 
Her father Jason Sheats, 45, who narrowly escaped becoming his wife Christy's third victim can be heard shouting, 'I promise you whatever you want I will do.'
In the second call placed by Taylor, 22, the elder daughter, stumped, appears to be unable to speak or convey information to the dispatcher. Presumably as she tried to make sense of the unbelievable chaos unfolding at the family home. Taylor was shot twice by her mother who delivered the fatal shot as her daughter lay dying on the ground outside the family home.
According to a neighbor's panicked 911 call Jason and Christy were 'yelling' and 'talking about divorce'.
Christy Sheats motive: 'I want you to suffer forever Jason'
Christy Sheats shot daughters to punish husband after 3 suicide attempts
Did Christy Sheats object to Juan Sebastian Lugo, daughter's fiance?
Taylor Sheats killed by Christy Sheats three days before her wedding
Did Christy Sheats history of mental illness lead to shooting?
Christy Sheats husband, Jason: 'Don't do this. They're our kids.'
Christy Sheats gun lover: 'I want to protect my family'
Why did Christy Sheats Texas mom shoot daughters dead?
A report via the dailymail has the neighbor describing watching as Christy shot her daughter Taylor in the back as she tried to run away. Moments earlier she had tried to shoot her as she lay on the ground but ran out of bullets and had to return to the house to reload.
Watching from the safety of his home he described how Christy hunted her daughter down and shot her in the back.
Told the neighbor: 'She's coming back again apparently she has bullets now. She's shot her again from the back. She's trying to run. She shot her in the back.'
The release of the Christy Sheats 911 dispatcher tape comes off the back of a report via people which quoted Fort Bend County Sheriff's Office telling that there had been to the Sheats home on 14 separate occasions since 2012. Of those visits, three were as a result of suicide distress calls involving Christy Sheats. 
Other disclosures also includes a report via KTRK where family friend Madison Davey described Christy as 'toxic for the family.'
Speaking to ABC13 Davey said: 'I always knew something would happen but I never thought she would do this.'
Davey described Christy as 'mentally unstable' and said she was 'out to kill that day.'
Davey has spoken to husband Jason in the aftermath of the tragedy. He told of tension in the family home on his 45th birthday that day and said that a conflict between him and his wife saw their daughters caught in the middle.
She said: 'He told Christy, "Just shoot yourself. Make it easy on all of us, just shoot yourself," and she said, "No, that's not what this is about, this is about punishing you."