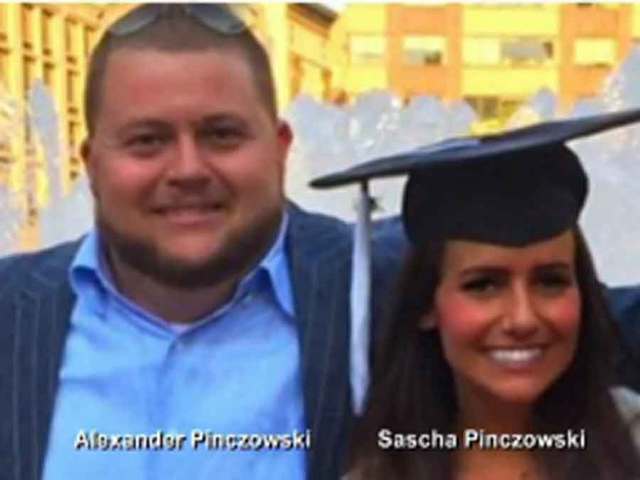 Sascha

and Alexander Pinczowski dead: Hope fades after the family confirms the worse after being told that the siblings were not on the list of remaining survivors.
Sasha and Alexander Pinczowski a sister and brother who were living in New York have been confirmed dead in the Brussels bombing attacks.
Confirmation of the siblings deaths come via the family after the brother and sister came to be caught in the suicide bomber's paths as they self detonated at Brussels Airport Tuesday morning.
At the time the siblings were on the phone with their mother when the first explosions could be heard before the line went dead.
Although the siblings were Dutch citizens they had been living in America.
A statement provided to CBS News on behalf of the family told 'The Belgian Authorities tonight provided, to the families gathered at Astrid Hospital in Brussels, a list of the names of all remaining victims of the tragedy of March 22 who remain alive. Sadly, our beloved Alexander and Sacha were not among them.'
James Cain, the former U.S. Ambassador to Denmark whose daughter Cameron was engaged to Alexander, released a statement on behalf of the family on Friday. 
'We received confirmation this morning from Belgian Authorities and the Dutch Embassy of the positive identification of the remains of Alexander and Sascha. 
'We are grateful to have closure on this tragic situation, and are thankful for the thoughts and prayers from all. The family is in the process of making arrangements,' the statement read. 
Cain remembered Alexander as a 'brilliant young man' who was clever and 'intimidatingly smart'.
Sasha and Alexander Pinczowski had both been living in New York, with the brother by now living wiht his girlfriend, whilst Sascha Pinczowski split her time between America and Europe
after graduating
from
Marymount Manhattan College
with a degree in business last May.
She reportedly had plans to settle permanently in Manhattan at the time of her death.  
According to her Facebook page, Sascha was originally from the seaside town of  Vouliagmeni in Greece.
Their father lives in the Netherlands and traveled to Brussels to aid in the search when his children were first reported missing. 
At least 31 people died and more than 270 were wounded in the explosions at the airport and another blast an hour later at a metro station, authorities said. The terror group ISIS has claimed responsibility.
Two other Americans, Justin Shults and his wife Stephanie, have not been heard from since the attacks, family members have said.
Did his faith save him? Mason Wells survives Brussels attack after surviving Boston, Paris attacks

Photos: Leopold Hecht Brussels law student ripped to shreds

Najim Laachraoui still on the run. Who is the Brussels bomber?
Nidhi Chaphekar air hostess is the face of Brussels attack defiance
'Thrown 66ft' Sebastien Bellin Brussels bomb victim
NSFW Photos: Brussels attacks. Who and why?