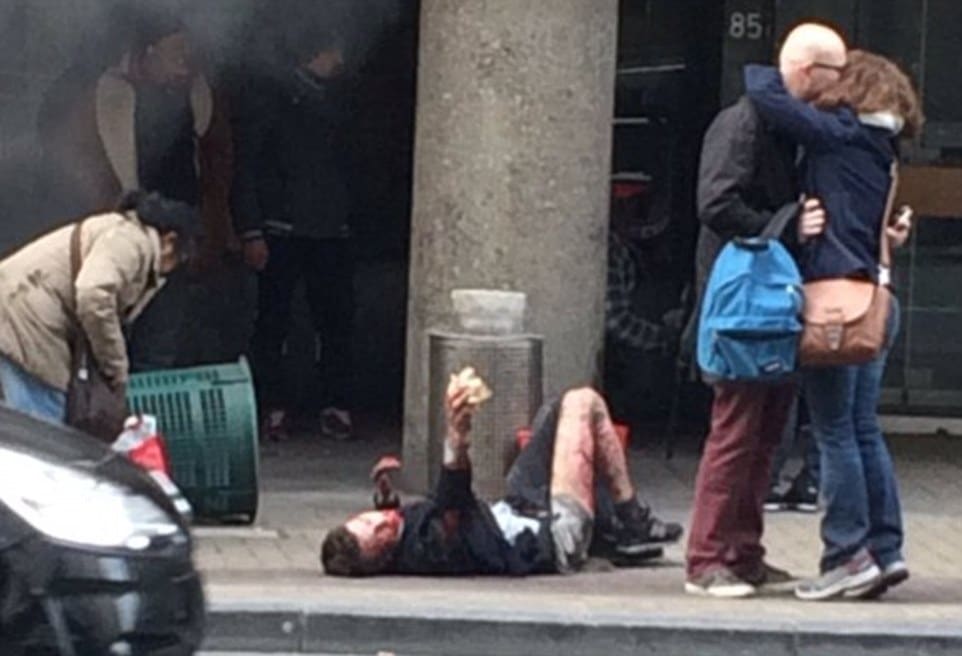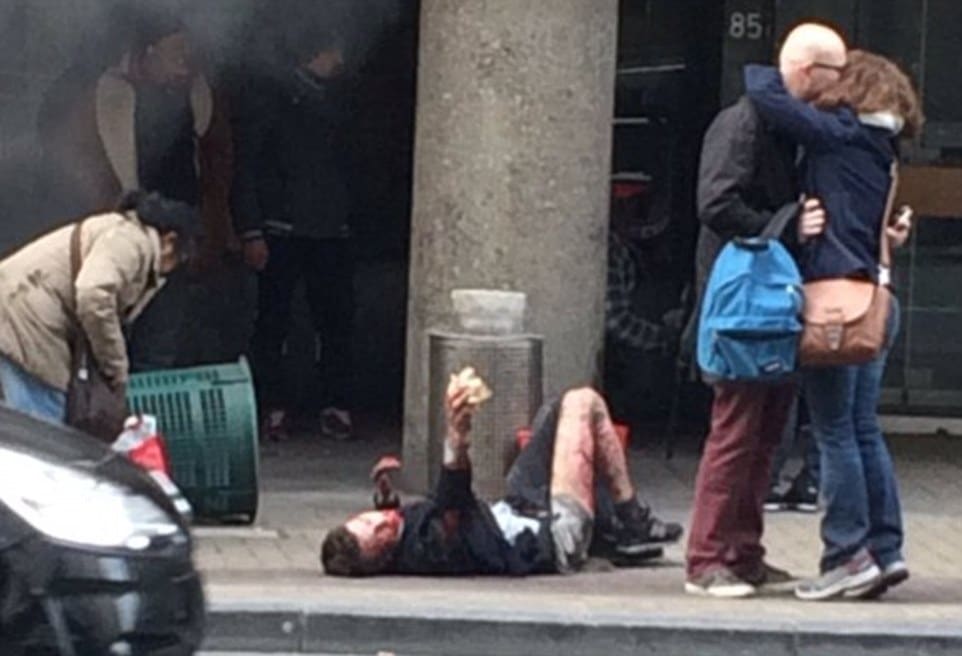 Brussels attacks: What predicated two suicide blasts an hour apart at two major travel depots and at whose hands were the explosions masterminded by?
World and local officials are reeling with news of at least one suicide attack and a second coordinated attack in Brussels, Belgium. One at Brussels airport at the American Airlines desk just on at 8pm and another blast 79 minutes later at the Maalbeek Metro station near the EU headquarters.
The first attack which involved two bomb blasts killed at least 14, injuring 81, with a third bomb blast claiming another 20 lives and with scores injured, at least 55 injured alone at the second location, with many left literally without limbs.
In the first blast at the departure area near the American Airlines desk, there were reports of a firefight between police and the attackers who shouted in Arabic moments before detonating their bombs.
An unexploded suicide vest was later found in the rubble and a Kalashnikov rifle beside the body of a dead terrorist.
With bombs detonated, with the dead and barely alive flung like paper dolls, civilians are seen running for their lives though shattered glass, debris and smoke.
Told one witness: 'It was atrocious, there was blood everywhere.'
And it would happen all over again just over an hour later at the Maalbeek Metro station just six miles from the airport with harrowing images, including video footage of people attempting to make their way out of the pitch black underground train system.
Did his faith save him? Mason Wells survives Brussels attack after surviving Boston, Paris attacks

Photos: Leopold Hecht Brussels law student ripped to shreds

Adelma Tapia Ruiz mom of twins dies. Kids survive after running off to play
Najim Laachraoui still on the run. Who is the Brussels bomber?
'Thrown 66ft' Sebastien Bellin Brussels bomb victim
Still alive? Alexander and Sascha Pinczowski, NY siblings missing from Brussels airport attack
Nidhi Chaphekar air hostess is the face of Brussels attack defiance
The attacks comes a day after the Belgium Interior Minister warned of possible revenge attacks, just four days after Paris terror attack suspect Salah Abdeslam was arrested in the Belgium capital.
The suspected ISIS terrorist's arrest came after officials were able to link his fingerprints to a 'safe house' where he had been hiding for more than four months post the Paris bombing explosions.
New footage outside #Maalbeek Metro in #Brussels shows victims being wheeled away by emergency services https://t.co/bdDNbA1ocM

— Sky News (@SkyNews) March 22, 2016
NEW: 15 dead, 55 injured in Metro explosion, operator of #Brussels' transport system says https://t.co/DBO0TV1QHF https://t.co/Wb8riDnu3J

— CBS News (@CBSNews) March 22, 2016
The death toll in #Brussels has risen to 21 with many more injured.#brusselsattackhttps://t.co/DcscDdm2Tp pic.twitter.com/h89ckgE8j1

— Express & Star (@ExpressandStar) March 22, 2016
Video shows people flee after explosion rocks Brussels metro station, killing at least 15. https://t.co/DHjEJe5Y8Phttps://t.co/VtImeINGXX

— ABC News (@ABC) March 22, 2016
That said officials have yet to have confirm whether or not the attack in Brussels is related to this capture of Abseslam or that of ISIS as many suspect.
The explosions have left countries worldwide reeling, with security placed on high alert, flights cancelled, Eurostar services suspended and France's border with Belgium shut down.
Local media reported two suspects were arrested a mile from the Maelbeek metro station at around 11am as hundreds of troops and police flooded the streets of Brussels in the hunt for members of the terror cell.
Soldiers have been also been deployed at the airport and other key locations across Brussels as Belgium raised its security level to 'maximum' in the wake of the attacks.
A report via the nytimes asks why and how Brussels came to be targeted with the media outlet countering, 'Brussels has a high proportion of citizens who travel to Iraq, insular Muslim communities that have helped shield jihadists, and security services that have had problems with their counterterrorism operations.'
Then there's the fact that in addition to being the seat of European Union government and the capital of Belgium, Brussels has become a focus of counterterrorism investigations, notably since the Paris attacks, making it an obvious symbolic target.
Which raises the big question? Who?
While no one group has claimed responsibility, an onslaught of media press has pointed all eyes at Muslim interaction. An obvious chose, but what's not so obvious is how and why have these 'terror' groups may have chosen to increasingly target Europe and is that a discussion the main stream press will eventually find the courage to discuss as at least 34 dead and hundreds injured and the world once again reeling in trepidation wonder if tomorrow morning it will be them looking at limbs that no longer belong to them….
In the interim, a report via the independent tells of ISIS supporters purportedly celebrating the Brussels attacks online as speculation mounts that the group may be behind a wave of deadly attacks in the Belgian capital.