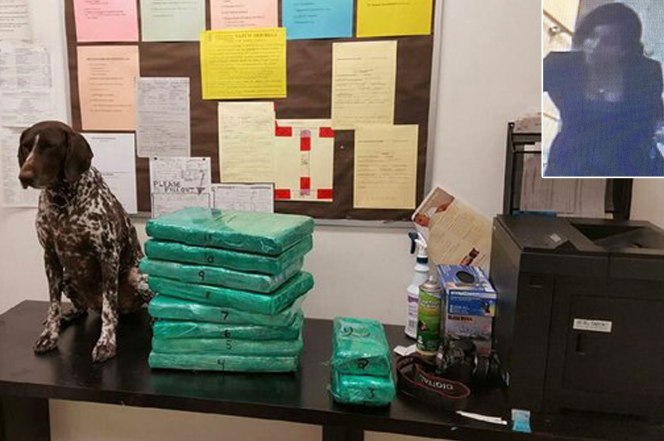 Mystery drug mule flight attendant: Authorities have yet to track down a woman believed to be smuggling cocaine before managing to flee imminent arrest.
Authorities have yet to arrest a mystery drug mule flight attendant en route from Los Angeles to New York City's La Guardia airport when she was discovered to be carrying up to 70 pounds of cocaine during a random spot check by TSA agents before fleeing out of the airport.
According to a report via the nypst, the yet to be publicly identified 'skittish' flight attendant flew into a panic at Los Angeles airport when she attempted to pass a line normally reserved for airline crew when she was unexpectedly asked by a TSA agent to submit for a spot check.
At the time the female flight attendant was trying to catch a red eye from LAX to New York at 7pm Friday when she was approached.
Knowing that a pat down and a checking of her luggage would lead to her immediate arrest, the nascent drug mule airline flight attendant decided then and there to make a break for it.
Observed making a call in a foreign language as she was on the brink of being busted, security escorted the woman to the front of the screening area where upon realizing she would soon be on the way to jail suddenly took off running.
Having gone as far as 15ft with her carry ons the woman decided to ditch those (leaving behind the cache) along with her designer Gucci shoes (naturally…) as she flipped them off in a bid to sprint away.
Told Marshall McClain, of the Los Angeles Airport Peace Officers Association: 'She kicked her high heels off and left her shoes and bag behind,'
'She knew if she dropped both of them she'd be able to run away more quickly,' he explained.
'She was then able to high-foot it out of the terminal, down an up escalator while barefoot, where we assume she got into a car and took off to parts unknown.'
In her bags, TSA agents found clothes, Trojan Magnum condoms and 68.49 pounds of cocaine wrapped in green saran wrap and labeled, "BIG Ranch," cops said.
She also left behind her leather, size 8.5 Gucci shoes.
Even though the woman showed TSA agents her ID and really was a flight attendant, no one at the TSA at the time got her name.
'This is a big security failure as far as I'm concerned,' McClain said.
To date the TSA has declined to comment on the incident.
Authorities told NBC Los Angeles that the mystery drug mule flight attendant was scheduled to board Flight 028 from LAX to LaGuardia on Friday night.
Authorities have since told that they believe they are fast closing in on the woman. Or are they?
Here's an autopsy of a drug smuggler. A primer in psychology.
Aer Lingus Brazilian drug mule had $62K coke inside stomach before it exploded
Anett Pikula photos: Glamorous drug mule arrested
British drug mules wait sentence. Refused bail. Face 3 years in no man's land.
Shekira Thompson busted smuggling $10K coke in vagina at JFK
Aer Lingus Brazilian drug mule had $62K coke inside stomach before it exploded
Pregnant woman turns out to be drug mule in disguise.
Nigerian drug mule dies at Madrid airport cause staff thought he had Ebola
Should British grandmother receive death penalty from Indonesian court for drug trafficking?
Should Drug Mule Scott Rush be killed by a firing line?
Aussie backpackers are now becoming drug mules.