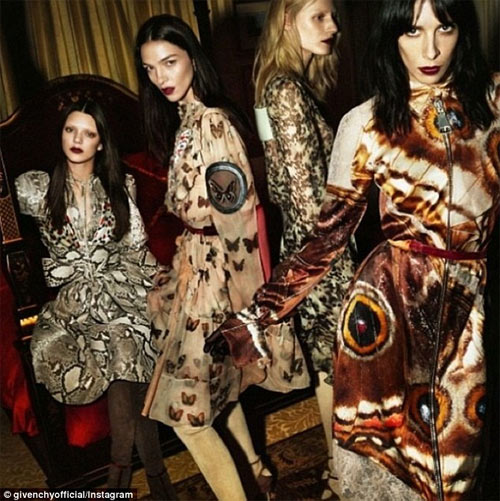 Kendall Jenner's modeling career it seems is on a meteoric rise, thanks in part to her lithe look and what many have come to consider the payback scheme that the Kardashian family have been able to successfully orchestrate. Case in point, Kendall Jenner's surprise inclusion in the Givenchy campaign.
Kendall Jenner for Giles. On her way to becoming a supermodel?
Kendall Jenner braless for Marc Jacobs and the world goes crazy.
Kendall Jenner insists you all take her as a serious model.
Here's Kendall Jenner in her erotic bikini bottom picture.
Oh wow! Kendall Jenner miraculously now becomes a Vogue cover model too.
Kendall Jenner tweets new pictures of her in Australia. A modeling star too…
Oh my! Kendall and Kylie Jenner model new bikini line.
Oh my! Kendal and Kylie Jenner do runway modeling too!
News of the scoop first made the airwaves after pimp momager, Kris Jenner posted a photo on Instagram announcing her daughter had landed a Givenchy ad, which also doubles as her first fashion campaign.
That said the move might not come as a surprise given the fact that Givenchy's head designer Riccardo Tisci happens to be close pals of Kim Kardashian and Kanye West's best friend. Yes kids, isn't it dizzy to find out that the world so often runs on who you know and what you know or as in Kendall's case how you necessarily look. But keep on trudging on to all those castings, someone will eventually have pity on discover you….
According to radar, happened to serve as creative director behind Kim's most recent wedding dress. Which naturally has raised suspicion that Kendall's inclusion was Riccardo's obligatory thank you to Kim and Kanye for media whoring his name out.
Reflected Katie Grand, who styled Kendall for her debut shoot in Vogue Paris last month of Kendall's out of left rise in the fashion sweeps:
'She's unique in wanting to turn her back on her celebrity when it comes to modeling, she's with a smaller very respected agency called Society who work specifically with high end designers, photographers and stylists,' 
'It would have been easy for Kendall to go with a bigger agency and gone down a celebrity route but she wants to be taken seriously as a model just like the rest of them.'
The inclusion comes as Kendall Jenner has sought to make a name for herself in the fashion sweeps, having previously walked the runways for Chanel and Marc Jacobs. Her inclusion in those shows at the time also happen to raise a few eyebrows, but to her credit the lithe Kendall Jenner who has been vigilant to inject herself in every trash tabloid headline has made her into a fashion stable.
Kendall Jenner, now deemed in some quarters as a supermodel has also recently been named the face of Topshop.
Isn't it time you launched your own reality show before you became your own top model too?