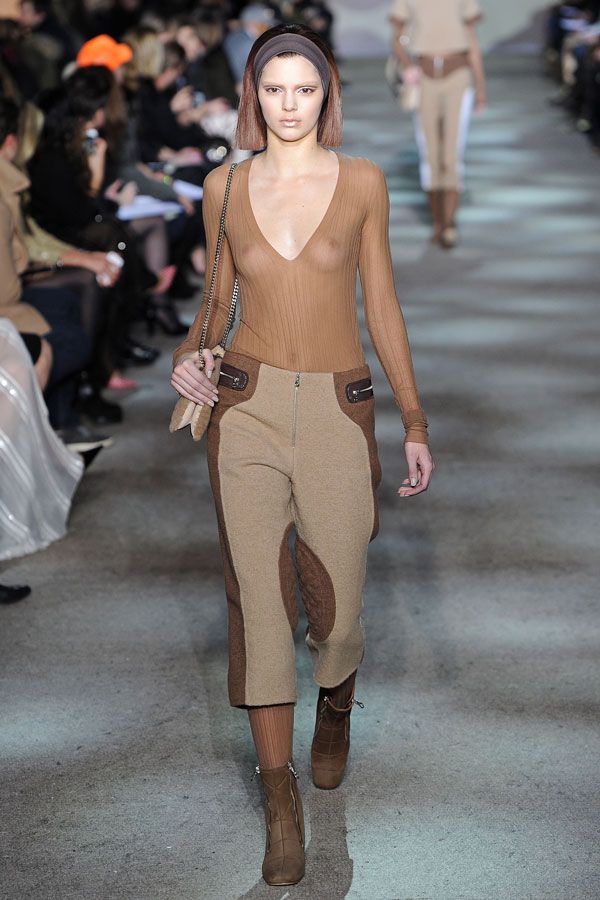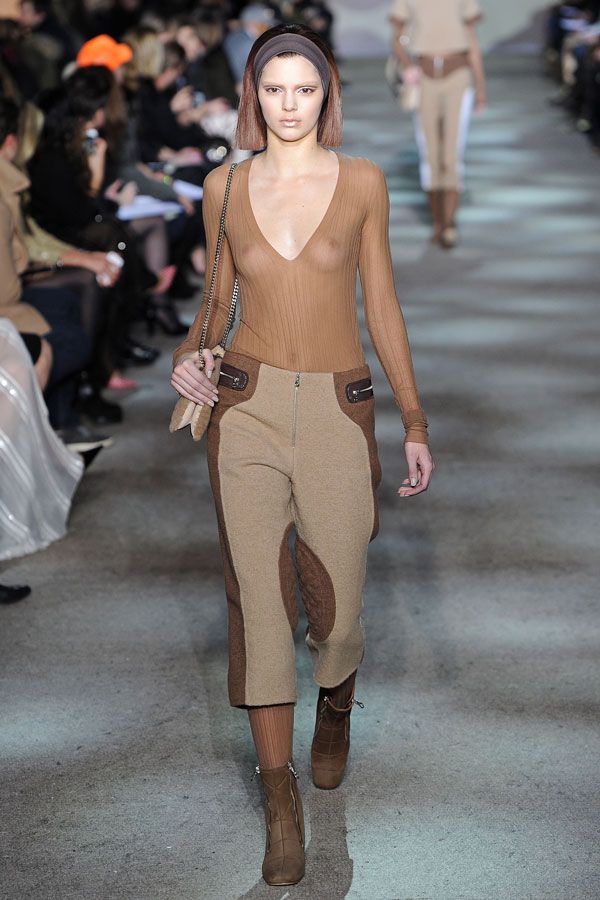 It seems the world is not quite ready to see Kendall Jenner of Kardashian fame strut the planks topless. Which is to posit that we prefer our teenage tabloid stars erring on the pristine and the virginal or that there's something tawdry about young women strutting about topless that has some in society aghast.
Then again this may have been the big break the aspiring model may have been looking for and it's no secret that many female models get to show their nubile wares as the industry so often rightly or wrongly demands it. Especially when it comes at a chance working for Marc Jacobs.
Yet what could be upsetting some is the idea that a reality starlet might be able to migrate from reality tv to the high fashion slopes.
Told the 18 year old recently: 'I don't think some people take me very seriously,' 
 'When I started off, I was way more of a personality in modelling and it wasn't like, what I wanted to be exactly.
'I want to be more high fashion; I want to be more editorial, but hopefully I'll just prove myself.'
Then again it could be a situation that many find the young reality star's presence in a high fashion show a bit cynical given her family's constant appearances in the tabloids as meaningless attention getters which many would argue they are. Of course some suspect that the only reason Kendall Jenner got her start is simply because of her family's connection.
Then again the reality is most sought after roles are often kept within tight circles and a result of family connections despite the idea that luck, talent and hard work will get someone over the finish line, which hopefully it still does. Or does it?
That said, who should discourage even a reality starlet's aspiration to haute couture if being a reality star attaché is the pull one needs to get selected in the competitive ranks of high fashion modeling?
It wasn't too long soon after twitter came looking for Kendall that older sister and consummate media whore Khloe Kardashian weighed in:
Others have suggested the reality's starlet appearance bordering on 'sluttiness.' Yet one has to remember as a mannequin she's only embracing the vision of the designer who she's agreed to work for.
Reflects refinery29:  'If you have a problem with this kind of semi-nudity on the runway or in public in any capacity, that is fine, but take it up with the industry at large — not the models who do what they're paid to do.'

Of course one can't help wonder if in the end society still struggles to come to terms with female nudity and insists on equating bare nipples, even on high profile personality or figure as bordering on the obscene, scandalous or sexual. Which raises the question why is society so insistent that a female's body equates to that of a sexualized form?
Kendall Jenner insists you all take her as a serious model.
Here's Kendall Jenner in her erotic bikini bottom picture.
Oh wow! Kendall Jenner miraculously now becomes a Vogue cover model too.
Kendall Jenner tweets new pictures of her in Australia. A modeling star too…
Oh my! Kendall and Kylie Jenner model new bikini line.
Oh my! Kendal and Kylie Jenner do runway modeling too!