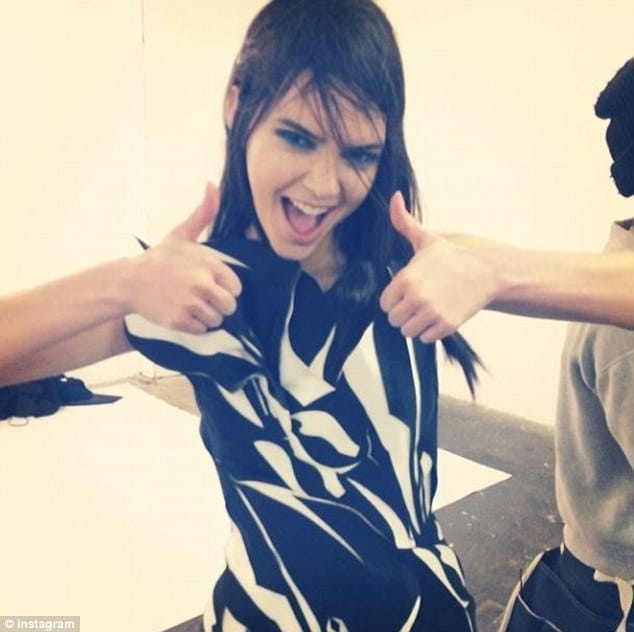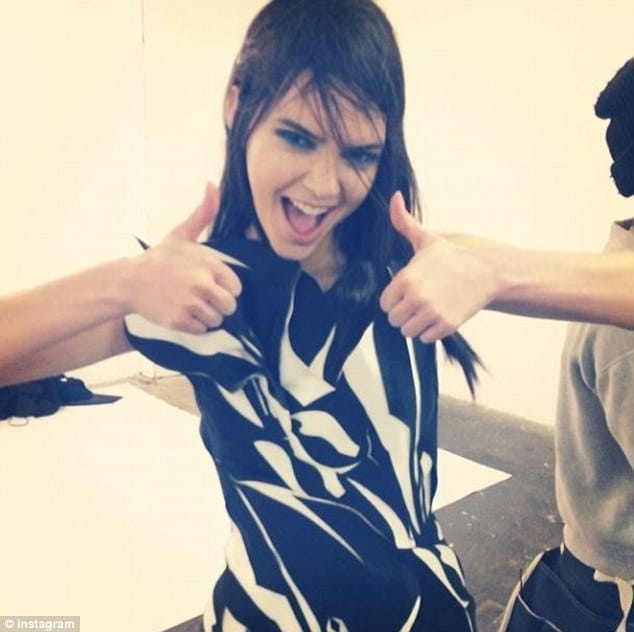 The kids were clapping loudly today as out of the box, aspiring super model Kendall Jenner took to strutting the planks for the Giles fall fashion 2014 collection in London. Now the question on the tips of pundits, is Kendall Jenner on her way to becoming a supermodel?
Tells gushingly the UK's dailymail: The 18-year-old reality TV star oozed confidence and professionalism as she strode down the runway alongside other A-list models such as Cara Delevingne and Jourdan Dunn.  
The model's appearance comes off the back of her highly touted appearance for Marc Jacobs last Thursday during New York Fashion week. Her appearance in a sheer slip exposing her nubile nipples had the media world gasping and straining wondering if there was more to the lanky Kardashian reality me too star besides her constant tabloid jinks.
Told Kendall Jenner after the Marc Jacobs show: 'I just recently turned 18, so this [Marc Jacobs show] is my big kick-off to start and grow my career. The New York fashion scene is crazy, madness, but I love the energy. I love everything about it – like the hair and makeup today, it's incredible. I've never had my eyebrows bleached; I don't even look like myself.'
Fast forward to today's presentation, the dailymail, who happens to be the world's biggest tabloid outlet and whom for the past 2 years has taken to stuffing their vertical wing of their site anything Kardashian whiffing and trotting. (One oughtn't be surprised if Kendall's mother, pimp momma Kris Jenner by now has signed an exclusive with the tabloid's pr department) went on to offer the following:
Gushes the dailymail: The American star is well on her way to being a supermodel, having also walked on for Marc Jacobs as part of his fashion show in New York last week.
Absent from that assessment is the go ahead wink courtesy of any top fashion editor who may indeed concur. Then again to be upfront, the rising media star was prominently photographed sitting front row next to American Vogue's Editor in Chief, Anna Wintour at a recent London show (will she now nab a Vogue cover is the tabloid's battle cry?) as well as part of the troupe rushing to organize world pop sensation, One Direction wonder, Harry Styles' 20th birthday tonight. Who naturally is her boyfriend too.
Posing for a picture before hitting the planks, the telegenic media star who has been petitioning this past year to be taken seriously beyond that of a me too Kardashion tabloid accessory and that of a model got to tweet a picture where she later posted the following:
'Hello from #LFW! Just walked #Giles and ready to take over for another day – @kendalljenner #KendallTakesOver #ImBacK'
Despite the ingenue's rising fortunes it remains to be seen if she will be joining the fortunes of fellow model media supermodel Cara Delevingne who by now has harnessed her unrelenting media exposure to become her own media star.
The question now is, can Kendall Jenner do the same and become her very own supermodel too?
And then there was this comment on the web that made me wonder as well:
Oh, how it must feel riding the coat tails of a sex tape, having in roads through a rap star/fashion designer and having no success earned for one's self.
Kendall Jenner braless for Marc Jacobs and the world goes crazy.
Kendall Jenner insists you all take her as a serious model.
Here's Kendall Jenner in her erotic bikini bottom picture.
Oh wow! Kendall Jenner miraculously now becomes a Vogue cover model too.
Kendall Jenner tweets new pictures of her in Australia. A modeling star too…
Oh my! Kendall and Kylie Jenner model new bikini line.