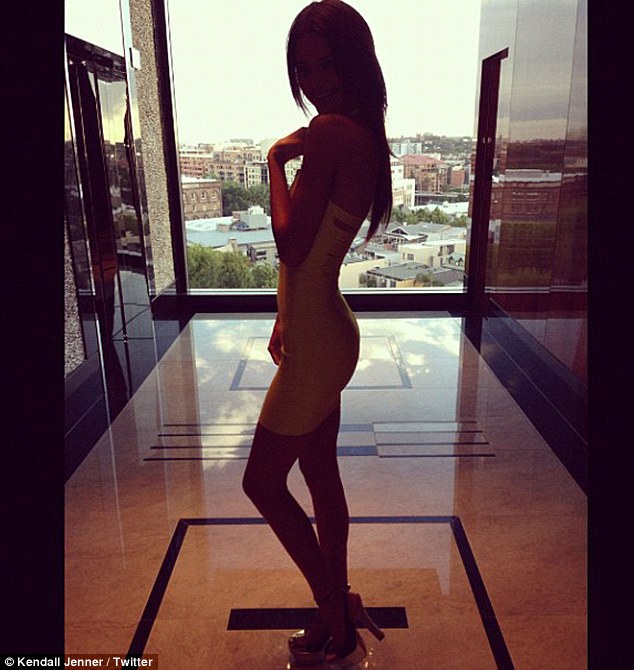 Kendall Jenner. Is she just too skinny?
Oh wow! Kendall Jenner miraculously now becomes a Vogue cover model too.
Really?! Kendall Jenner is turned down by X Factor boy band Emblem3.
Kendall Jenner is the day dream she wishes you were having…
Currently in Australia where she is following in the family business of being a resounding media whore, 16 year old Kendal Jenner wasted no time in tweeting fans alike new images of her as she made the rounds.
Currently in Sydney, Australia with momma pimp Kris Jenner in the hope of chipping away at her budding modeling career (see kids how easy it is when you have the press writing about you and a professional momma pimp by your side) Kendall cut the fetching figure as she gallivanted from one soiree to another even making an appearance on the sunrise show as she shot with famed Aussie photographer Russell James.
But in case you think Kendall is just in Australia to have some shots snapped of her think again….
dailymail.co.uk: And Kendall isn't just focused on her modelling career, as she is set to also make her acting debut on Hawaii Five-O later this month.
The episode sees the 16-year-old Keeping Up With the Kardashians star as a shop clerk, where she carries a dialogue with Scott Caan's character with a One Direction song playing in the background.
The youngest sisters are both keen to spread their wings and create empires for themselves, just like their older siblings.
Empire? Cause that's what budding 16 year olds aspire to these days when the golden trays of money are pointing your way. Then there's Kendall's upcoming fashion line too (see how easy it is kids when you let things come to you):
So Kylie and Kendall have teamed up with Majestic Mills and are said to release their own clothing teen line, to be in stores next spring.
According to People magazine, the Kendall said of the fashion line: 'We always get asked what we are wearing, so when we got the chance to design our line with Majestic Mills, we were thrilled.'
'We have been really excited by the creative design process from the start because we love fashion, and we can`t wait to share it with our fans!'
Creative process? Hmm, do you think? Or is it really more about the marketing process?
Isn't it time you launched your own ready to go media empire career too kids?
Kendall Jenner is a hawt bixch via instagram. Who cares if she's underage?
Oh my! Kendal and Kylie Jenner do runway modeling too!
Oh my! Look at Kendall Jenner play with Mason in her bikini!
Oh my! Kendall and Kylie Jenner model new bikini line.