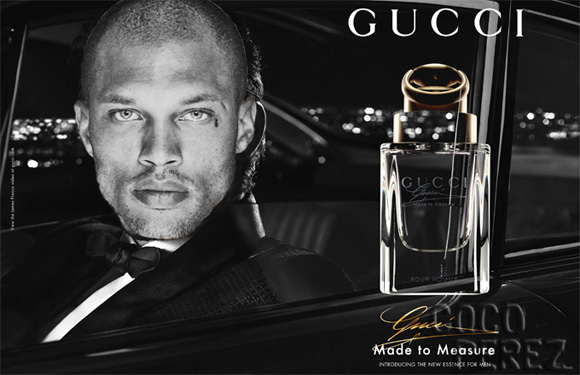 It seems crime may pay after all. At least for Jeremy Meeks whose mug shot has been making the internet swoon ever since California's Stockton Police Department took to posting his image on their Facebook wall . The good news? Jeremy Meeks may now be fielding offers from top modeling agencies where they tell he stands a chance of making $30 000 a month as a top male supermodel.
Jeremy Meeks lands $30 000 modeling contract. But will he be freed? 
Jeremy Meeks to wear designer clothes during trial. Reality show too… 
Jeremy Meeks manager received death threats from gang members 
Jeremy Meeks Mug shots: He looks so damn ugly
The violent reality of Jeremy Meeks: Crips member, grand theft, gun possession and identity theft. 
Jeremy Meeks, model prisoner becomes internet meme. Sorry he's married ladies 
tmz: Jeremy Meeks — aka Dreamy McMug — stands to make tens of thousands of dollars just for looking like a hot gangster.
Blaze Modelz tells TMZ … "gangster models" are hot right now.  The agency claims they can book Meeks with high-end fashion houses — like Versace and Armani — and he could rake in $15 – $30K a month.  
Blaze also says they actually like Meeks' face tattoos … even the gang-revealing teardrop.  They thinks it's edgy and sexy.  They didn't mention the Crip tattoo on his neck, but that can be covered.
Edgy and sexy? Could it be that all the resulting media attention and not necessarily the tattoos and hard life story and dizzy stoic expression on our collective hero's face that has made Jeremy suddenly so edgy and sexy? Unless of course the fashion world is suddenly into bad boys (literally that is)?
Tmz reports that another modeling agency who has chosen to stay anonymous (can anyone guess why?) once Jeremy Meeks is a free man they would like to work with him as well.
But there's a hitch. Jeremy Meeks bail. All $1 million of it.
At present our collective hero has no real prospect of getting out and no one has stepped forward to offer Jeremy Meeks bail money. Not even the modeling agencies who reckon that Jeremy is a sure bet for the supermodel stakes.
And in the event Jeremy may have to spend time in jail, there are fears he might just might be a little long in the tooth by the time he's ready for his 'Valentino' assignment.