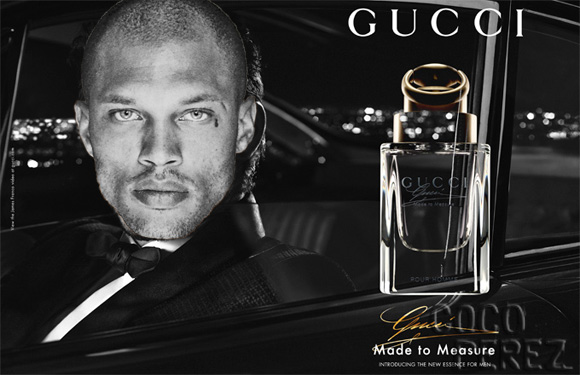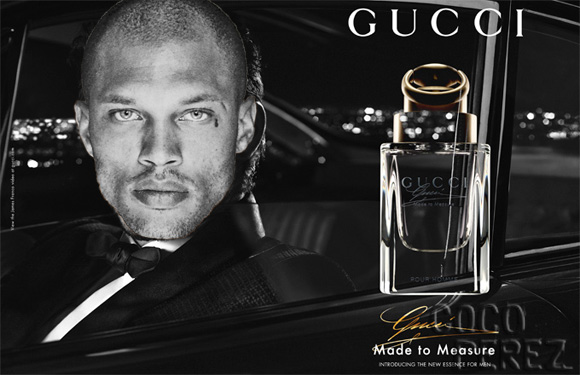 Jeremy Meeks' handlers have been left in the unenviable position of reckoning with a young man who since been brought to public attention has now been sought out for modeling contracts while all the while not being able to take on the work offered because of the very reasons of how he came to attract attention in the first place- his criminality.
Jeremy Meeks to wear designer clothes during trial. Reality show too…
Jeremy Meeks manager received death threats from gang members 
Jeremy Meeks set to make $30 000 a month as a supermodel
Jeremy Meeks Mug shots: He looks so damn ugly
The violent reality of Jeremy Meeks: Crips member, grand theft, gun possession and identity theft. 
Jeremy Meeks, model prisoner becomes internet meme. Sorry he's married ladies 
According to TMZ, Meek's new talent agent and former porn star, Gina Rodriguez has been able to secure the felon who at present remains incarcerated pursuant to a parole violation a $30 000 modeling contract. The catch? He might not be able to fulfill its terms if Rodriguez isn't able to get out of him jail anytime soon.
The contract via Blaze modelz is said to be worth $30 000 and would require Jeremy Meeks modeling for the likes of high end fashion houses, with the added benefit that Meeks' all encompassing tattoos might also help him book even more work.
Yet whether the felon who has since become an internet wet dream meme can go on to  become a model depends on whether Jeremy Meeks lawyers will be able to convince any judge to be lenient with the felon who at present faces 11 felon charges including illegal gun possession and gun crime and is at present held in custody in lieu of a $1 million bond.
That said there might be a lot at stake to get the felon out of jail as soon as possible with Blaze Modelz telling that they can secure him runway jobs with high end fashion houses including Versace and Armani, which could see Jeremy Meeks and his handlers earn thousands a month.
Speaking to Fox News, Gina Rodriguez told she hoped to secure a number of entertainment deals, including a reality television show which the former porn star believes will 'help him turn his life around'.
Adding:'Everybody has a story, and I, of all people, know that,' she said. 'If this was a different situation, like if someone was actually hurt or there was violence involved, I definitely would not be taking him on.
'But we don't know Jeremy's full story yet, and I don't feel like he got a fair break.'
That said, Jeremy Meeks has spend the better part of a decade in and out of courtrooms in California and Washington for crimes including resisting arrest, faking his identity and grand theft, for which he served two years.
News of his new modeling contract have been met with both merriment and deep suspicion and disgust in various quarters on the web.