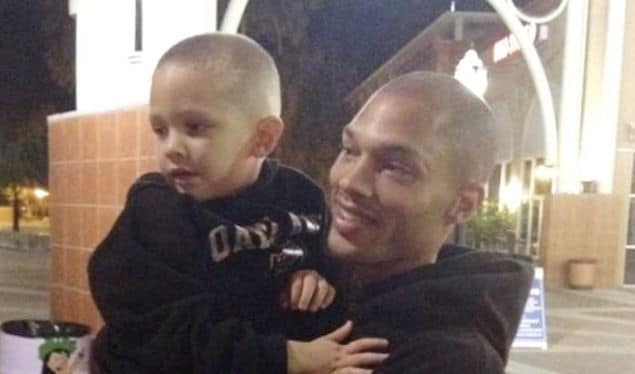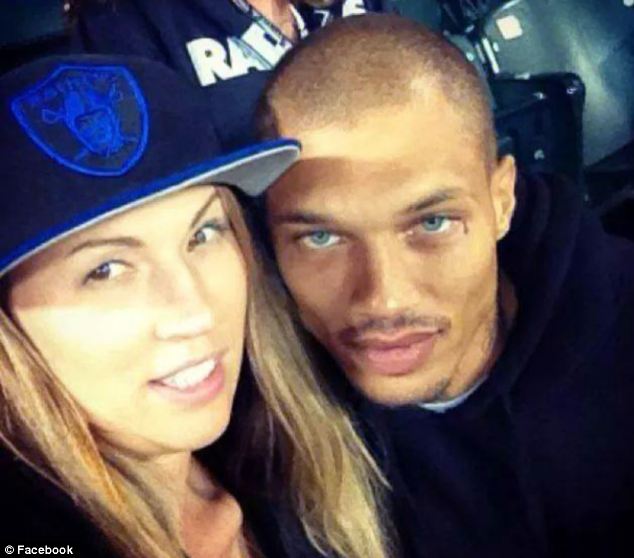 Making social media and the strangled hearts of lustful women swoon is the too good looking for you visage of Jeremy Meeks who has since been dubbed the model prisoner after his mugshot made the rounds.
Jeremy Meeks lands $30 000 modeling contract. But will he be freed? 
Jeremy Meeks to wear designer clothes during trial. Reality show too… 
Jeremy Meeks manager received death threats from gang members 
Jeremy Meeks set to make $30 000 a month as a supermodel 
Jeremy Meeks pre Mug Shots: He looks so damn ugly 
The violent reality of Jeremy Meeks: Crips member, grand theft, gun possession and identity theft. 
Meeks' piercing grey blue eyes, strong jaw line, high cheekbones and lush lips first caught the imagination of social media after his image was posted on Stockton Police Department's Facebook wall after Jeremy Meeks and three others came to be arrested on firearms charges.
But there's a hitch.
Speaking from jail, the 30 year old tattoo-covered felon – who previously served nine years in prison for grand theft – said he said he learned of his new-found fame when he spoke with his wife.
Can I repeat that slowly for all you ladies: his w-i-f-e.
'I just visited my wife and she said I blew up all over Facebook,' he told News 10.
TMZ reports they've been married 4 years and have a 3-year-old son together. To date no images of Jeremy Meeks wife have been publicly made although there is speculation that the above woman pictured (above) with the 'model prisoner' various times on Facebook might be his wife.
Meeks mother would also reveal that the heart throb model prisoner also has a son.
Although set to be arraigned on street terrorism charges on Friday, Jeremy Meeks would tell how he came to be arrested after cops found a pistol in his trunk. Nevertheless the model prisoner insists his gang days are behind him.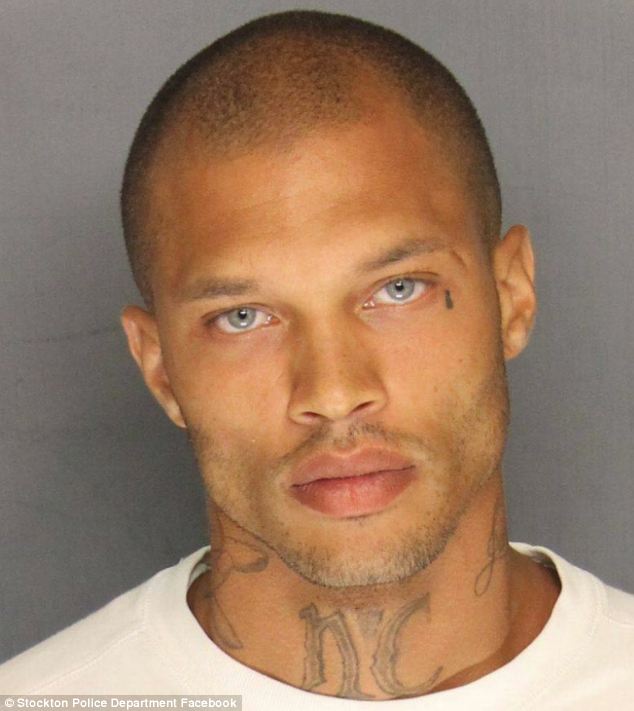 Asked to reveal the meaning behind his teardrop tattoo beneath his left eye – sometimes a gang sign for carrying out a murder or relating to time spent locked up – Meeks declined to go into details, telling only that he 'has done some things in the past he'd rather forget.'
'I appreciate [the attention] but I just want them to know that this is really not me,'
Adding: 'I'm not some kingpin.'
Meeks' mother, Katherine Angier, has in the interim insisted that her son is innocent and has even set up a GoFundMe page to raise $25,000 to get him a fair trial.
'He has a job and he was on his way to work, with no gang affiliations as per two of the charges,' she wrote of her son's arrest.
'He has old tattoos… which causes him to be sterotyped. He's my son and he is so sweet. Please help him to get a fair trial or else he'll be railroaded.'
Jeremy Meeks sister also told the only reason her brother carried a gun is because he used to be in a gang and needs to protect himself.  Adding that he's been a practicing Christian for 7 years.  

Christianity or not, Jeremy Meeks GofundMe page has of this late Friday morning only raised a scant $308, seemingly taking more propositions than cash.
'Hit me up when u get out daddy, I got a list of naughty things I wanna do to you,' one donor wrote.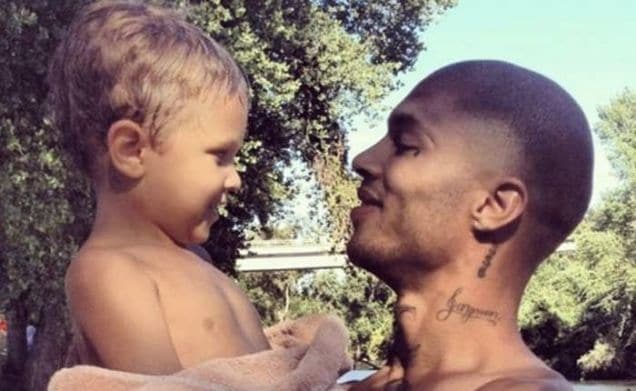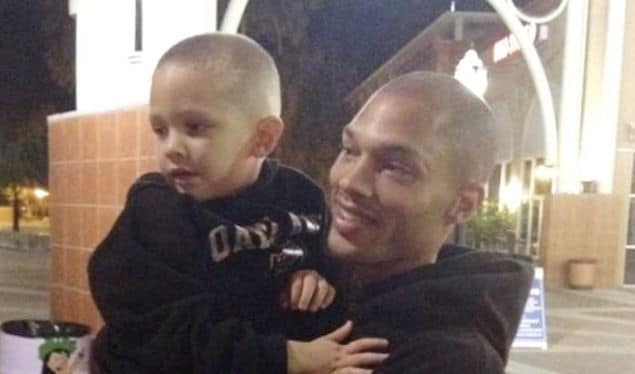 The sordid suggestions also continue to appear on the Stockton police's Facebook page, where Jeremy Meeks' photo was liked more 20,000 times in less than 24 hours.
'What is he guilty of?! First Degree Sexiness?!' wrote fan Ashley Pruitt Carden, while Rhonda Cee contemplated: 'He'll probably be on next years prison calendar…Mr….EVERY MONTH!'
Many have since agreed Meeks had missed his calling.
'He needs to be a model,' wrote Bettina Jones. 'I would buy whatever he's selling!'
At present the repeat offender is being held on $900,000 bail, but perhaps not for long. There's talk amongst the commenters of raising the funds to set him free.
'He didn't know any different. I could turn him into a "model" citizen. Where can I pay his bail?' wrote Deborah Ann Mitchell.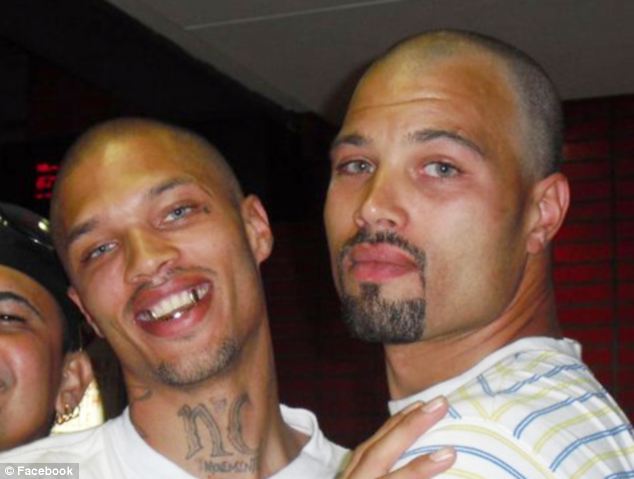 But not everyone's a fan.
'$900,000 in bail and 6 felonies,' Amber Gomes wrote. 'You ladies are desperate.'
Others simply offered their support, including one new fan from Singapore.
'Hope he can turn his life around for the better,' Felix Clarice wrote beneath one of his pictures. 'I believe in second chances.'
Something that Jeremy Meeks can possibly at last come to believe in himself as well…