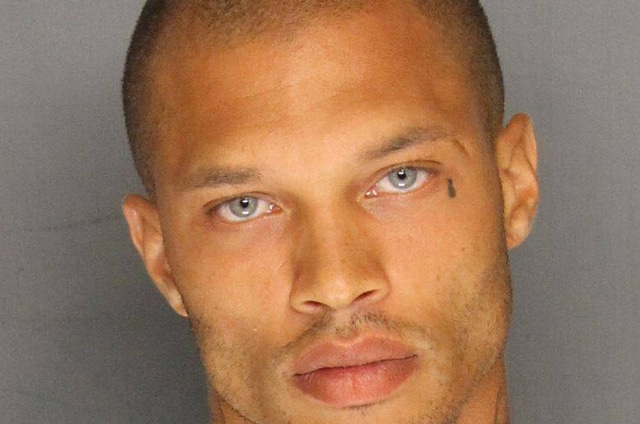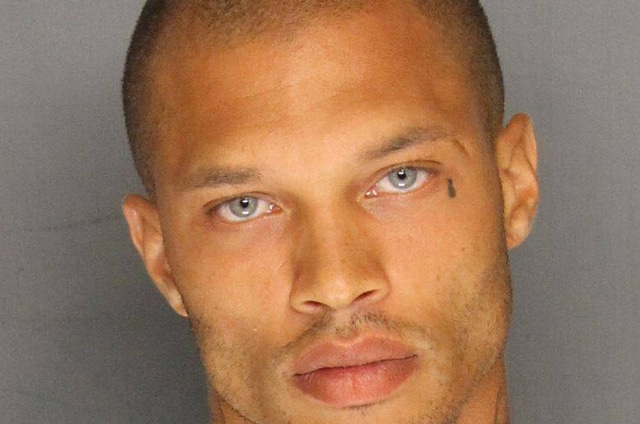 Whilst the internet has taken to swooning over their newest collective hero, Jeremy Meeks, the so called 'model prisoner,' court and police records come to show a more terrifying reality of the self confessed proud Crips gang member.
Jeremy Meeks lands $30 000 modeling contract. But will he be freed? 
Jeremy Meeks to wear designer clothes during trial. Reality show too… 
Jeremy Meeks manager received death threats from gang members 
Jeremy Meeks set to make $30 000 a month as a supermodel 
Jeremy Meeks pre Mug Shots: He looks so damn ugly 
Jeremy Meeks, model prisoner becomes internet meme. Sorry he's married ladies 
Having first come into prominence after the Stockton Police Department shared his mug shot on its  Facebook wall after arresting the gang member in the early hours of Wednesday morning on five weapons charged and one gang charge, the 30 year old 'pretty boy' in reality hides an ugly truth; Jeremy Meeks is a hardened lifetime criminal who has been in and out prison and even served one 9 year stretch.
Court and police records reveal over the last ten years America's new darling has been in and out of courtrooms in California and Washington for a variety of crimes, including resisting arrest, faking his identity and grand theft, for which he served two years.
The felon also bears gang tattoos, including a teardrop beneath his eye – often to symbolize a gang killing – and the word 'Crip' on his forearm, suggesting his link to the notoriously dangerous Crips gang.
In a newly released police statement cops explained that this past Wednesday morning, Jeremy Meeks had come to be stopped after he was seen leaving a home where a search warrant was about to be executed and, after carrying out a search on his car, came to find a 9mm round of ammunition and a small amount of 'what is believed to be' marijuana in his passenger compartment.
Inside the trunk, cops also allegedly found an unregistered and loaded Springfield Armory .45 caliber semi-automatic handgun along with two extended magazines for the firearm.
Stockton police explained that the documented gang member has a felony conviction and a two year state prison sentence from a 2002 conviction for grand theft from a person in Solano County.
But records show that was just the start of his trouble with the law.
In April 2005, Meeks was charged with identity theft in the second degree and resisting arrest in Spokane County, Washington, although the second charge was later dismissed.
In that incident, Meeks was spotted picking up a package of pellets at the Sporting Goods Department of the General Store and leaving the store without paying.
When he was pursued he threatened the store security officer saying he would 'f*** you all up… mess you up' as well as threatening to 'kick your ass' until he was sprayed with pepper spray and arrested.
Meeks initially tried to pass himself off as his brother, Emery Meeks, who already had an outstanding arrest warrant. It was only the following evening after he had been booked into Spokane County Jail that his true identity became known and he was charged with Forgery and Identity Theft.
At the time there was also an outstanding warrant for his arrest in California. He plead guilty in October 2007 and was sentenced to 71 days and ordered to pay $800 in fines and fees.
In 2007, he was charged with negligent driving and driving without a license, although this second charge was later dropped and he was fined just $252.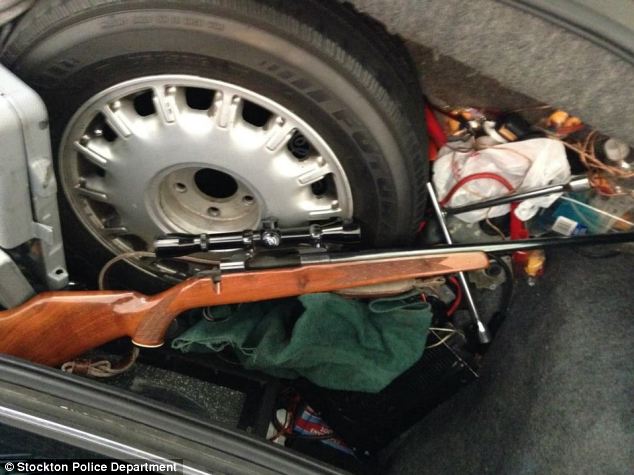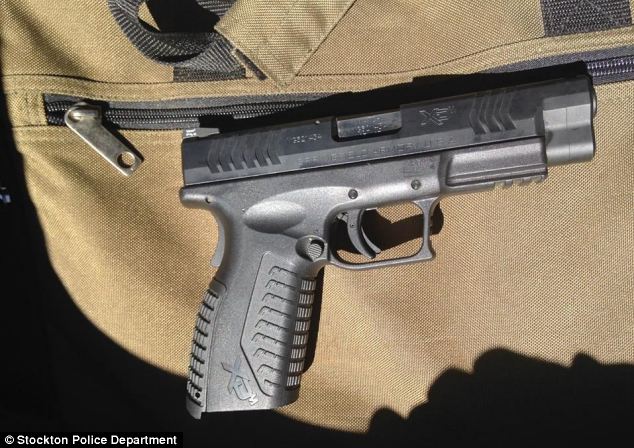 Speaking to News10 from behind glass in Stockton this week, he told News 10 that he also served nine years for grand theft, although records were not immediately available.
Records from April this year also reveal that he was arrested for resisting a peace officer or EMT in San Joaquin County raising questions as to Jeremy Meeks claims that he is now staying out of trouble.
Offered Public Information Officer Joseph Silva of Jeremy Meeks: '…one of the most violent criminals in the Stockton area'.
'It's been a long term investigation over many weeks and Mr Meek's gang was identified as the most violent and active gang in the area,'
Two of his charges are gang related.'
Silva would simply relay Jeremy Meeks has six prior felonies.
A tattoo running along Meeks' right forearm shows the word 'Crips' – the name of a notorious U.S. gang known to be involved in murders and drug dealings, although to date there has been no proof that Meeks necessarily participated in such crimes.
Joseph Silva would come to decline providing further details about the activity Meeks had actually come to have been involved with.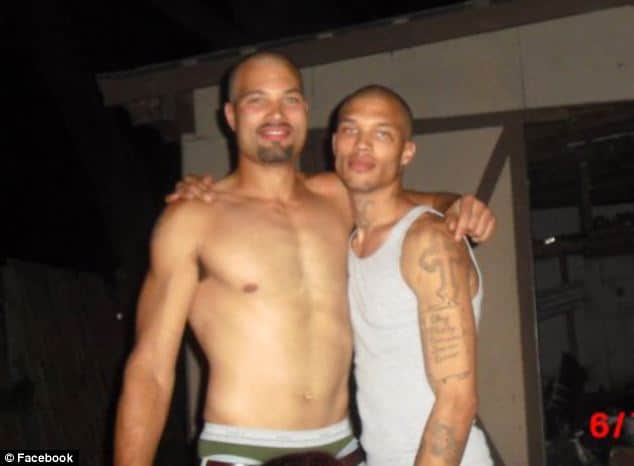 Despite his extensive rap sheet and association with  local gangs, Meeks and his family still insist that he is not involved in criminal activity.
Doshaney Lewis, 22, the girlfriend of Terry Joe Bailey, who came to be arrested at the same time as Meeks, said that the pair were no longer involved in the Crips.
Told Lewis: 'I cannot deny they were members and they call each other brothers but they have given all that up,'
 'This has all been ridiculous. People think this is funny but the families are hurting.'
Jeremy Meeks relatives would also come to tell that Meeks had left the gang life more than seven years ago, found God and settled down with his wife, child and a job.
Speaking out from jail, Meeks insisted his gang days were behind him.
'I appreciate [the attention] but I just want them to know that this is really not me,' he told News 10, 'I'm not some kingpin.'
Pressed as to the meaning of the teardrop tattoo beneath his left eye – which is sometimes a gang sign for carrying out a murder or relating to time spent locked up – Jeremy Meeks declined to go into specifics but only to say he 'has done some things in the past he'd rather forget.'
What things Jeremy Meeks has come to do has yet to be revealed but for the time being America has come to have an avid fascination with the photogenic career criminal. Whether in part a romantic fixation on the bad guy, hopes that a once dark character can finally turn his life around or whether simply a fascination in how an individual who resembles the facade of many accomplished male models came to choose a life of crime instead?