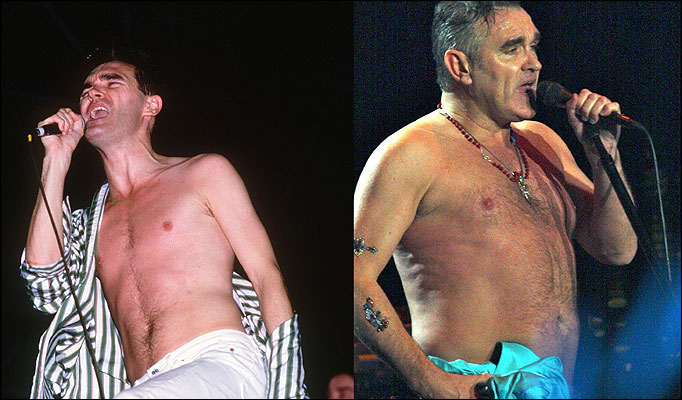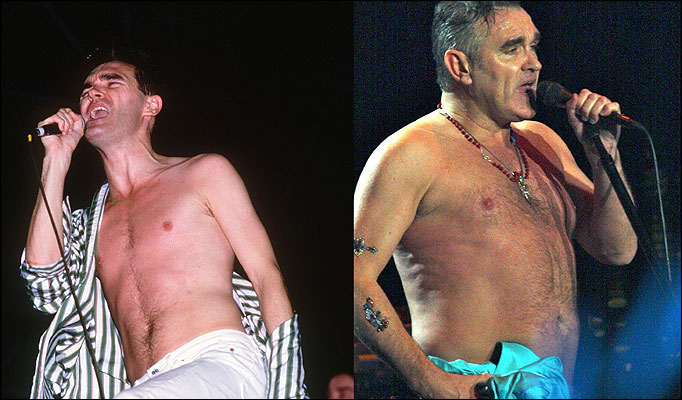 Morrissey is simply too beautiful and too valuable to be up on stage, he needs to be lionized in a church altar. Such were the probable sentiments of legions of fans last night as one after the other after the other continued getting on stage to lick the salt off the singer's face, until one went too far…
tmz: Morrissey was performing  "One Day Goodbye will Be Farewell" in San Jose, CA Wednesday night … when a bunch of fans broke through security to hug the singer. 
At first, Morrissey seemed to be amused by the huggers  … even chuckling at the situation … but then some ahole ruined it for everyone when he came after the singer HARD … knocking him to the ground.
Security rushed in … and the band immediately stopped playing. 
Chuckling? More like savoring. Then again this is Morrissey and this is what you pay for (even I have vivid memories of our hero kicking a fan to the head off stage in the early 90's), never mind the feel good morose songs about bitter love and a bitter existence that fans dream into oblivion.
At present it is not known whether Morrissey was hurt or if the fan was arrested. Morrissey is due to play in Santa Ana, California, tonight. There is no word if the show will go ahead.
If only you were an evening demi god contending with the ribald fascination of dark wounded souls ….
above image found here