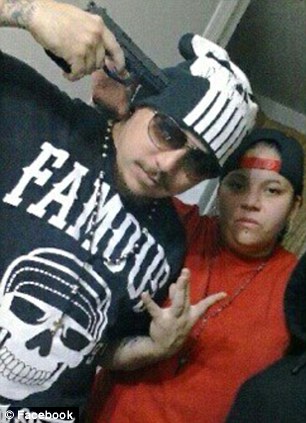 Phoenix, Arizona. Savannah Ramirez, a 19 year old girl has accidentally shot and killed her 22 year old brother Manuel Ortiz after they posed together for a picture on Facebook whilst she mockingly placed a loaded gun against his head.
The incident is said to have happened 6 am Monday morning on New Year's eve after the pair had arrived at the house they share after a night of drinking. Joining them were two other friends, of which one of them pulled out a gun for the brother and sister to 'play' with for the cameras. At that point a single gunshot erupted whilst Ramirez held the gun to her brother's head, killing him instantly.
At this time it is not known whether either party knew the gun was loaded.
At present Ramirez has been questioned and released pending further investigation.
Told Phoenix Police Sgt Steve Martos to ABC15, that Ramirez faces the chance of being charged with manslaughter if tests conclude she had alcohol in her system.
Reflected Martos: 'Every New Year's Eve, this particular sister is going to be thinking about this for the rest of her life on how…drinking overnight, playing with a gun and now shoots and kills her brother.'
Of interesting note is the fact that on both Manuel Ortiz and Savannah Ramirez's Facebook page there are numerous images of them posing with guns and making gang symbols. Which begs the question how have the presence of guns become such a rite of passage in the American life, from films, iconic symbols and the idea that guns represent showmanship, defiance, and edgy grit when so often they are waiting time bombs waiting to go off?
So much for drinking and shooting….