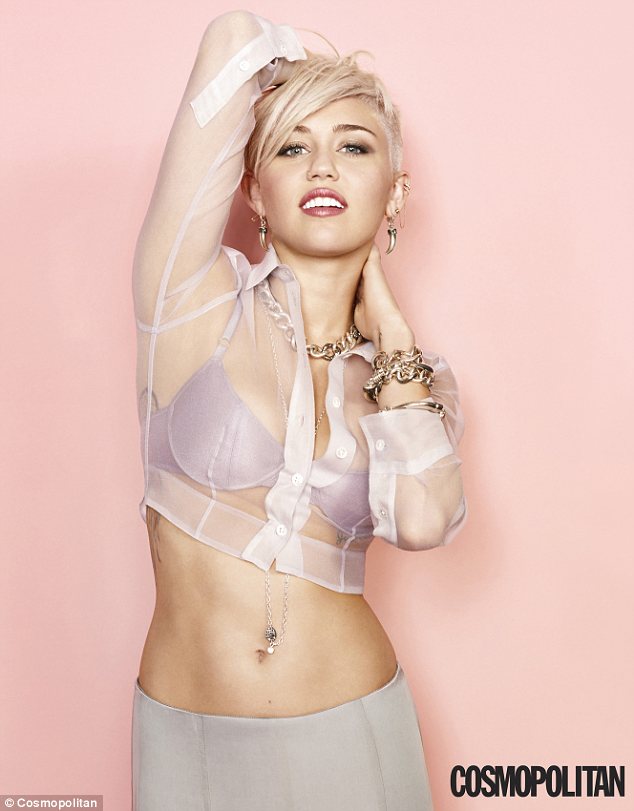 And selling her soul this afternoon is….?
Also making the media rounds this afternoon in tabloid land (I know I wanted a career as a novelist and now I get to be a writer about preferred media whores…blah) is that of Miley Cyrus who interestingly opines that she's never really been squeaky clean. If anything tells the singer to Cosmopolitan magazine she has always been a bit of a rebel.
And to prove how much of a rebel she really is (cause you never had any doubts) Miley gets in a matter of undress where she exposes her yummy toned muscles and flexes her peroxide blonde mullet.
Reflecting about her time as a Disney starlet in her formative years (yes at 20, Miley has a formative life thank you very much!) she offers the following:
'Some of the worst things that have happened in my career, like things getting leaked, have actually been what's best for me, because people knew when I was on that show that I was really growing up.
'I never faked anything. I never played the Disney game of smiling and being a princess and then suddenly having a hard time, saying, "That isn't who I really am."'
From there Miley contemplates about her soon to be husband Liam Hemsworth  who in her opinion is the all time wet dream she was able to nab.
Isn't it time you used your pr firm to sell the dribble that runs down your rebellious afternoon yawn to sell to the world too?