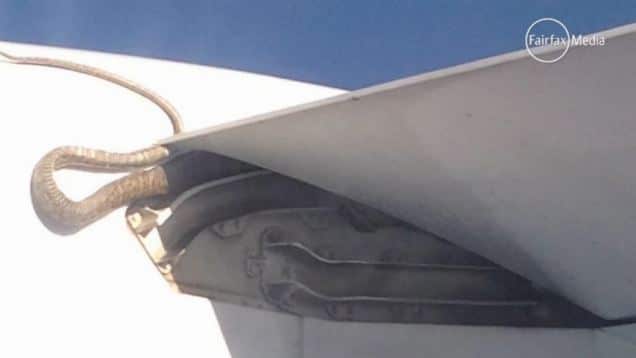 Making headlines today is the story of how one passenger received the fright of their life whilst looking out of their cabin window whilst on board a Qantas flight en route from Cairns, Australia to Port Moresby, Papua New Guinea.
From there it became a life and death struggle for the 10 foot snake who was by now clinging for its life as the plane travelled at a speed of 500 miles an hour 30 000 feet above land with temperatures as low as minus 12 degrees celsius. I know a dizzy feet indeed.
Meanwhile on board by now all eyes were now transfixed on the python as it attempted to secure its passage.
Contemplated passenger Paul Weber who first spotted the python: 'I felt quite sad for it really, for the remainder of the trip he was trying to pull himself back into the plane.'
Needless to say Mr Webber probably would of have felt less sorry for the snake had it somehow managed to be slithering there next to him. Then again python snakes do make quite the impression…
Fortunately for the snake by the time the plane reached Port Moresby it appeared to still be alive and moving.
The snake is believed to have climbed aboard through the landing bay, ultimately moving into the trailing ledge flap assembly.
Qantas insists this is a first for the airline. And one would imagine a first for the snake as well…